Media for Mobile Platforms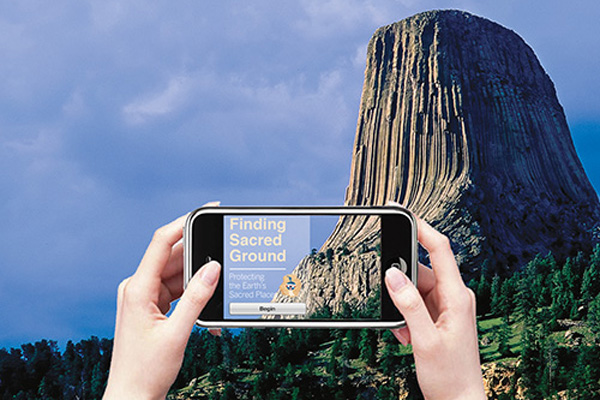 In May 2010, SLFP participated in the BAVC Producers Institute for New Media Technologies where we developed a locative media, augmented reality hybrid platform — Finding Sacred Ground — that will lead users on an audiovisual tour through a natural or urban landscape using their mobile device. The augmented reality tour will graphically superimpose indigenous landmarks along the route, identify native place names, and describe the dispossession of the original inhabitants of the area. It will use audio and video footage of native elders and educators telling their stories and sharing knowledge of the land. Full realization of this project will include an open software platform, allowing communities from around the world to create their own locative tour, sharing their experiences, issues and history with a broader audience.
At BAVC, we developed a pilot project at Mato Tipila, Devils Tower National Monument (Wyoming). Elements of that tour will include site guardians explaining how to respectfully visit a sacred site, and augmented reality visualizations to tell the creation story of tower – a dramatic image of a sacred stone growing tall to protect children from a hungry bear. It will also include artist renderings of Lakota encampments from time gone by, a constellation guide to view their traditional star knowledge, and video clips detailing current topics, including the controversy over climbing that persists at the site.
To learn more about Finding Sacred Ground and to see the pilot we developed in conjunction with Dorothy FireCloud (Rosebud Sioux), Superintendent of Devils Tower National Monument, please watch this video produced by the Bay Area Video Coalition here or check out our photo slideshow!
Update Summer 2012: The Finding Sacred Ground app can be downloaded for free from iTunes.