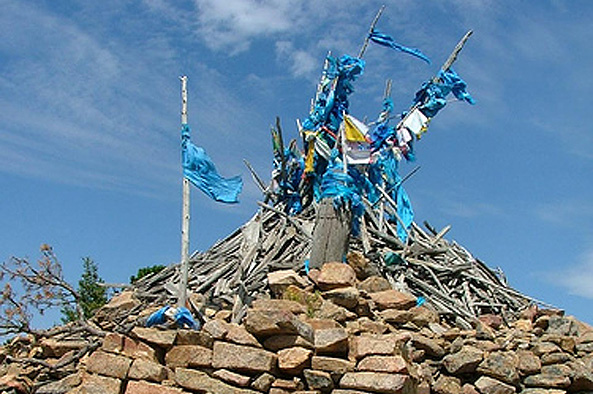 | | |
| --- | --- |
| Status | Threatened |
| Country | Mongolia |
| Report By | Anthony Myers and Amberly Polidor |
| Posted | December 23, 2009 |
| Updated | December 23, 2009 |

Crowned by one of the four holy peaks surrounding the Mongolian capital Ulaanbaatar, Bogd Khan Uul Strictly Protected Area is Mongolia's — and perhaps the world's — oldest officially and continuously protected site. Officially declared a sacred mountain reserve in 1778, evidence of its protected status dates back to the 13th century. During the decades-long rule of communism in the 20th century, religion was repressed and nearly all of Mongolia's 900 Buddhist monasteries were destroyed. However, reverence persisted and the post-communist era ushered a revival of the national tradition of nature conservation, the restoration of monasteries and resanctification of sacred natural sites, including Bogd Khan. Unfortunately, real estate and tourism development, including a ski resort, now threaten Bogd Khan, and Mongolia's deep-rooted conservation ethic must face yet another modern challenge. Mongolian researcher and linguist Osomamjimyn Sukhbaatar writes, "One of the distinctive traits of Mongolian civilization is its profound relationship with nature and its preservation of wilderness. Mongolians have developed outstanding traditions of a relationship with nature by deifying nature and the Earth."
The Land and Its People
Capped by the 7,440-foot holy Tsetseegun peak, Bogd Khan Uul (Mountain), which lies to the south of Ulaanbaatar, extends some 20 miles from east to west and nearly 10 miles from north to south. The mountain's landscape features dense coniferous forests and bare rock on the upper slopes, and open grassland, including wildflower meadows, at lower elevations. According to Mongolia's National Red List, threatened animal species include the critically endangered red deer, which has seen an 80 percent regional decline over the past three generations because of exploitation and habitat loss; the endangered Mongolian gazelle, Eurasian elk and Siberian marmot; and the vulnerable black-tailed gazelle and sable.
Bogd Khan Uul's significance as a holy mountain stretches back to the time when shamanism — with its focus on the worship of natural sites — was dominant, and its reverence continued as shamanism was integrated into Buddhism, which became Mongolia's state religion in the 13th century. The mountain is associated with the Mongolian shamanistic deity Dunjingarav, who rides 33 grey horses. "Bogd" and "Khan" are terms of reverence used frequently in the names of Mongolian mountains. Khan, meaning "king," was commonly used during shamanistic times, while Bogd, sometimes translated as "living" or "holy," originated in India and Tibet and became the more traditional name once Buddhism was accepted in Mongolia.
At Bogd Khan, and throughout Mongolia, practitioners came to stone cairns called oovos to pay homage to the deities that inhabited the landscape — a shamanic tradition that was adopted into Mongolian Buddhist practice. Many mountains and streams have deities attached to them, and these deities influenced the naming of much of the landscape. In the 1700s the people who settled what is now Ulaanbaatar began to make semiannual offerings on the mountain and codified prohibitions against hunting and logging.
Mongolian officials established Bogd Khan Uul as a protected area in 1778, predating the establishment of the United States' Yellowstone National Park by nearly 100 years. Bogd Khan Uul's protected status may date back even further, as there is evidence suggesting an informal protection as early as the 1200s. According to legend, Genghis Khan was born at the foot of the mountain; while that story is most likely apocryphal, it is known that the great Mongolian emperor's headquarters were for a time situated nearby.
During the communist era, from 1924 to 1989, Buddhism was suppressed, ovoo worship was outlawed, monasteries were destroyed, Buddhist texts disappeared, and many monks were killed. However, following the election a democratic government in 1990, Mongolia has worked to restore its spiritual, cultural and conservation traditions. Buddhist monasteries and ovoo worship have been revived, and some thought-to-be extinct texts have resurfaced. On Bogd Khan Uul, ceremonies led by local Buddhist lamas honoring the deities of the mountain are again taking place.
In 1995, the government designated Bogd Khan Uul a "Strictly Protected Area," one of several conservation categories established by Mongolian law. This precipitated UNESCO's awarding of "Biosphere Reserve" status to the mountain in 1996. Mongolia also submitted Bogd Khan and two other sacred mountains for tentative inclusion on UNESCO's World Heritage List as a mixed cultural-natural site. In addition, Bogd Khan Uul is one of three sites recognized by Mongolian presidential decree as a natural sacred site.
The blending of traditional shamanistic Mongolian beliefs with Tibetan Buddhist thought has produced perhaps the best model for modern conservation efforts. According to Sukhbaatar, the main feature of Mongolia's strength in protecting nature is buried deep within its legends, stories and names about the natural surroundings. "Flowing from pre-Buddhist cultures, enhanced and often codified by Buddhism and now fused with environmental awareness, the ancient names of sacred mountains, lakes and rivers indicate a profound respect for nature which is one of the hallmarks of Mongolian culture."
Current Challenges and Preservation Efforts
In recent years, tradition-inspired approaches to conservation have been the blueprint for local protection efforts and have inspired ideas for solving Mongolia's pollution, overgrazing, logging and waste-disposal problems.
In 2000, the Buddhists of Mongolia restored traditional hunting and logging bans. The following year, expanding on the ban, they reintroduced the concept of Buddhist Sacred Reserves — areas designated as protected by the deities — which date back hundreds of years but had been destroyed under communism. Bogd Khan is among the seven reserves that have since been resanctified. To further strengthen the conservation concept among the citizens of Ulaanbaatar, in 2003 the Buddhist community unveiled a carving of the mountain's protector deity on the slope facing the city.
On the mountain's south side, monks are rebuilding the Manzushir Monastery. Built in 1750, it housed more than 350 monks and 20 temples before it was destroyed in 1936. The Dashchoilin Monastery in Ulaanbaatar looks after ovoos on Bogd Khan, and in 2006, monks planted 1,000 trees. In 2008, a team from the National University of Mongolia established a signposted tour path to the mountain's peak, the first in the site's history, and produced educational brochures and a video to strengthen conservation efforts.
Unfortunately, despite its official moniker, the Bogd Khan Uul area is far from "strictly protected." Over the past six years, urban sprawl from Ulaanbaatar has been creeping south; hotels, tourist facilities and residential developments, often surrounded by high fences, are rapidly filling many of the valleys. In November 2009, Mongolia's first ski resort opened on the mountain's northeastern slopes, and an associated golf course is slated to open in June 2010.
Because of these developments, Bogd Khan Uul was dropped from a World Bank forest conservation project that would have linked Bogd Khan with other nearby protected areas, allowing species to move into new ranges as an adaptation measure to climate change. Project administrators, however, could get no assurance from the Mongolian government that conservation was a priority in the protected area.
Local residents are also hunting and grazing animals and logging wood within Bogd Khan Uul. A 2005 report published by the WWF and the Alliance for Conservation and Religions noted that community involvement in protected-area management was limited and that members of the local population were often alienated from that management.
Creative community-based approaches are needed to strengthen Mongolia's traditional conservation ethic among the broader population. Mongolian Buddhist monks could also benefit from increased ecological training and support, which could in turn affect the larger community. For example, some monks have expressed interest in using biodegradable khadags, or offering scarves, which would have the direct effect of cutting down clutter on mountains and could also encourage the Mongolian people to consider the environmental impact of their actions.
What You Can Do
Consider becoming a member or making a donation to the Alliance of Religions and Conservation, which works with Mongolian Buddhist groups to help them restore the environment in accordance with their traditional principles.
For thoughts on the ethics of visiting a sacred place, familiarize yourself with these guidelines.
To learn more about the development currently going on at Bogd Khan, watch this video.
Sources
Alliance of Religions and Conservation. Mongolia: Buddhists and Environment.
Bedford, Charles. "The World's Oldest National Park: Ghosts of Monks and Red Deer." Cool Green Science: the Conservation Blog of the Nature Conservancy, November 10, 2009.
Bulag, Uradyn Erden. Nationalism and Hybridity in Mongolia. Oxford University Press, 1998.
Chimedsengee, Urantsatsral, Amber Cripps, Victoria Finlay, Guido Verboom, Ven Munkhbaatar Batchuluun, and Ven Da Lama Byambajav Khunkhur. Mongolian Buddhists Protecting Nature: A Handbook on Faiths, Environment and Development. Ulaanbaatar, Mongolia: Alliance of Religions and Conservation, 2009.
Croner, Don. "Bogd Khan Uul: One of the Four Sacred Mountains of Ulaan Baatar." Mongolia Adventure, Summer 2008.
de Gruyter, Walter. Shamanism and Northern Ecology. Berlin: Walter de Gruyter & Co., 1990.
Dudley, Nigel, Liza Higgins-Zogib, and Stephanie Mansourian. Beyond Belief: Linking Faiths and Protected Areas to Support Biodiversity Conservation. WWF and the Alliance of Religions and Conservation, 2005.
"Mongolian Geographical Species Search." National Red Lists.
Sukhbaatar, Hatgin Osornamjimyn. Sacred Sites of Mongolia. Ulaanbaatar, Mongolia: Alliance of Religions and Conservation, Gandan Monastery, WWF Mongolia, and World Bank, 2002.
United Nations Educational, Scientific and Cultural Organization. "Bogd Khan Uul." MAB Biosphere Reserves Directory.
United National Educational, Scientific and Cultural Organization. "Mongolia Sacred Mountains: Bogd Khan, Burkhan Khaldun, Otgon Tenger." UNESCO World Heritage Centre.
Saltzstein, Dan. "Mongolia's First Ski Resort Opens." The New York Times, December 7, 2009.
Whitten, Tony. "Mongolia: tough decisions about the world's oldest nature reserve." Mongolia Web, May 12, 2009.
Wild, Robert, and Toby McLeod, eds. Sacred Natural Sites: Guidelines for Protected Area Managers. Gland, Switzerland: IUCN, 2008.