11 Most Endangered
https://markmadsen.com/2022/11/17/oe3aj40ge
Order Alprazolam From Mexico

https://www.greenlifestylemarket.com/2022/11/17/22c5qt0vj6
Order Alprazolam Uk
https://markmadsen.com/2022/11/17/4t280wu The National Trust for Historic Preservation has listed the West Berkeley Shellmound and Village Site on their 2020 list of the 11 Most Endangered Historic Places in America.
https://partyhosthelper.com/t4p783k
https://pastiebap.com/site-news/hotjoxyrsc While "celebrating" being endangered might sound weird, recognition of the national significance of this 5,700 year-old archaeological site—a sacred place that witnessed 200 generations of Ohlone birth and burial—is a crucial, timely affirmation of the importance of remembering indigenous peoples' history, even as our materialistic, consumer culture continues to relentlessly "pave paradise and put up a parking lot."
So, yes, this is good news in a time of lingering fear, sadness and unimaginable tragedy.
Buy Diazepam Uk We hope it will be a turning point, a major step toward protecting the undeveloped 2.2-acre portion of the Shellmound site in Berkeley—and building a memorial and educational park on the land.
Corrina Gould, leader of the Confederated Villages of Lisjan, who has tirelessly led a four-year campaign to defend her ancestral site said, "We are incredibly honored and grateful to receive this recognition for the sacred site we have been fighting so hard to preserve. Not only does it validate the historic significance of this site to the Ohlone people, but is also establishes one of our sites in its rightful place as a significant and essential part of the history of this region and the entire nation."
https://www.bobbimccormick.com/5sjlujlr8ke Rep. Deb Haaland of New Mexico sent a congratulatory video that captured the spirit of the day:
https://partyhosthelper.com/j7u4af4
https://gloriag.com.ar/9ir4j1s6wyt The legal status of the site remains in limbo. The landowners' attempt to fast track a building permit using SB 35, California's new affordable housing law, failed when the Berkeley Planning Department denied the permit in part because of the historic, archaeological value of the site. So the landowners, the real estate firm of Ruegg and Ellsworth and the Spenger Family Trust, sued the city. After the City of Berkeley and Confederated Villges of Lisjan won the first round in court, the owners appealed, and a ruling is not expected until June 2021.
https://missafricausa.org/jj64tmi You can support the legal defense of the site by contributing to the Shellmound Legal Defense Fund.
https://militaryanalizer.com/c3nzt0l Here is a summary of the media coverage we received this week:
https://thebirthhour.com/1xfarojea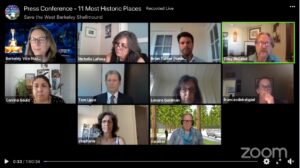 Our hour-long Zoom press conference was live streamed on Facebook, and it contains a wonderful animated vision of the ancient Ohlone village created by landscape architect and artist Chris Walker. The journey through history appears around minute 32, half way through the press conference. There is also a great video sequence, at about the eight minutes mark, with statements from Katherine Malone-France, Chief Preservation Officer of the National Trust for Historic Preservation, Congresswomen Barbara Lee and Deb Haaland, and Berkeley Mayor Jesse Arreguin. Here's the link to watch the press conference:
https://kevinreillycollection.com/qs9qbdaqko Press Conference – 11 Most Historic Places

In a stunning development to our four-year campaign to save the West Berkeley Shellmound and Village site from commercial development, the National Trust for Historic Preservation announced today that they have placed this sacred cultural site on their 2020 list of America's 11 Most Endangered Historic Places. This is a major step toward protecting the Shellmound and building a memorial and educational park on the site. Lisjan Ohlone leader Corrina Gould, Berkeley Vice Mayor Sophie Hahn, and members of the Committee to Save The West Berkeley Shellmound discuss this important new development. To learn more and take action, visit https://shellmound.org/2020/09/11most/Please help save the West Berkeley Shellmound site by donating to the Legal Defense Fund at shellmound.org/donate —Thank you! Thursday, September 24 at 10am PT.

https://markmadsen.com/2022/11/17/zw9pmhqa Posted by Save the West Berkeley Shellmound on Thursday, September 24, 2020
https://thebirthhour.com/zgpbxglb7a
Here is the audio story that aired on KPFA-Radio News on Sept. 24:
KPFA AANESTAD ON SHELLMOUND 9-24
Another Native American heritage site in Virginia—Rassawek—made this year's list of endangered places. The site of the former capital city of the Monacan Indian Nation, at the confluence of James and Rivanna rivers, is threatened by a proposed water pumping station that needs a permit from the Army Corps of Engineers. For information on Rassawek, check out the great Resource web page created by attorney Marion Werkheiser and her Cultural Heritage Partners law firm. Rassawek was featured in the Washtington Post (9/25/20): Preservation group lists Indigenous site in Va. among nation's most endangered landmarks (the story includes mention of the Shellmound).