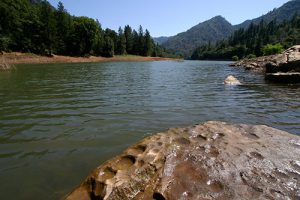 Each summer, the Winnemem Wintu, whose home is the McCloud River watershed in northern California, hold a four-day coming-of-age ceremony on the river for the tribe's young women. But this sacred ritual has, in recent years, been threatened by the presence of outsiders drinking alcohol and shouting threats and racial slurs as they travel on the river.
Since 2005, the Winnemem have repeatedly asked the U.S. Forest Service to close a 300-yard stretch of the river to boating and general access, in order to protect the sanctity of the ceremony as well as the safety of the young initiates as they swim across the river. Instead, the Forest Service instituted a "voluntary closure," which has only served to make the tribe a target of harassment.
Despite having documented previous disruptions of their ceremony, the Winnemem's requests for a mandatory closure have been met with a lack of response or an ineffective effort to protect their traditions, which the U.S. government is mandated to do under the American Indian Religious Freedom Act. The tribe's request is also consistent with Forest Service obligations to protect religious practice under the Religious Freedom and Restoration Act. The ceremony is also protected under the U.N. Declaration on the Rights of Indigenous Peoples, which President Obama has signed.
This year's ceremony, to take place June 30 to July 3, holds special importance because it's being held for the young woman who is training to become the next tribal leader. It will be essential to maintain the security and sanctity of the ceremony, and to protect her from undue trauma — which can only be achieved by closing this small stretch of river for four days.
On April 16, Winnemem leader Caleen Sisk and other tribal leaders met with U.S. Forest Service Regional Forester Randy Moore at his Vallejo office to present their request for a mandatory closure; outside the building tribal members held a protest with signs reading "Respect Native Women. Close the River" and "Our Ceremony, Our Rights, Close the River." Moore promised to review the request and respond by May 1.
To learn more about the Winnemem struggle to close the river and their meeting with Moore, watch this video on the Winnemem Wintu website.
What you can do
Please contact Regional Forester Randy More at rmoore@fs.fed.us or by calling 707-562-8737, and respectfully urge him to close the McCloud River to general recreational use along the 300-yard stretch where the Winnemem puberty ceremony will take place from June 30 to July 3. Click here for a sample letter.
If you represent a tribe and want to support the Winnemem, please print, sign and mail this tribal resolution in support of a river closure.
Learn more, and sign an online petition, at SaveOurCeremony.com.