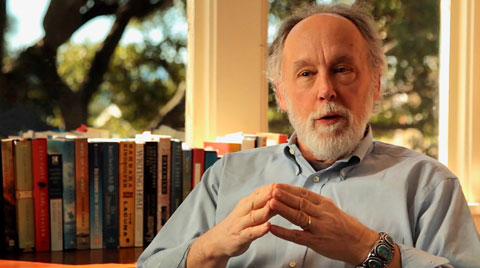 Our 2011 film interview with author Barry Lopez for the Standing on Sacred Ground series yielded an embarrassment of riches. Barry's written works explore the relationship between nature and human culture and include Arctic Dreams, for which he received the National Book Award, Of Wolves and Men, and his most recent masterwork, Horizon. Barry Lopez was a master storyteller, though for project director Toby McLeod, he was also a close friend and ally.
In Part Two of this two-part podcast, Barry reflects on the future of sacred sites, the role of technology in our lives, and the importance of following the leadership of the elders. For more information visit Barry's website.
This episode was produced and written by Hannah Wilton and Toby McLeod, edited by Callie Shanafelt Wong and recorded by Isaac Butler-Brown at Dirt Studios.
We welcome you to download and play the podcast for personal use. You may not, except with our express written permission, reproduce, distribute or commercially exploit this copyrighted content.