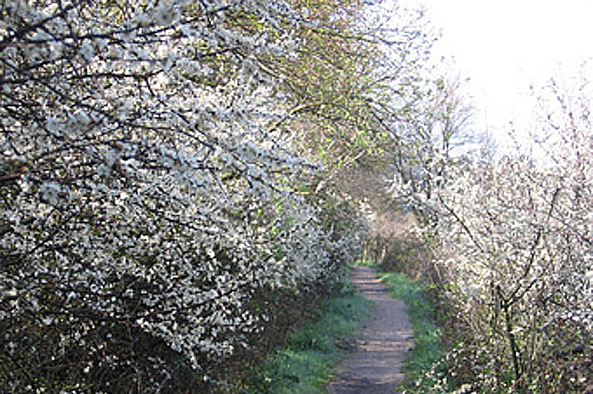 | | |
| --- | --- |
| Status | Threatened |
| Country | Spain |
| Report By | Kirstin Henninger |
| Posted | January 15, 2008 |
| Updated | January 15, 2008 |

https://www.kidsensetherapygroup.com/mczgmjf0e The historic pilgrimage route to the Cathedral of Santiago de Compostela in northwestern Spain—known as the Camino de Santiago, or Way of St. James—is the oldest and longest living pilgrimage route in Europe. For more than 1,000 years, pilgrims have been walking the camino, which has starting points throughout western Europe, all of which culminate at the cathedral, itself a world-renowned masterpiece of Romanesque art. The most important routes cross the Western Pyrenees in two main branches and vary from about 450 to 1,200 miles in length. Hundreds of churches, monuments, bridges, lookouts and resting places dot the routes. In recent decades, urban development has had a negative impact on this longstanding symbol of Christian faith. However, interest in completing the Camino by foot, bicycle or horseback has grown significantly among travelers of all backgrounds and faiths, and these modern-day pilgrims represent a group of vested conservation advocates.
The Land and Its People
Buy Diazepam Online According to Christian tradition, the apostle St. James (Santiago) traveled to the region of northwest Spain to preach the gospel, but in 44 A.D. returned to Palestine, where he was beheaded by King Herod Agrippa. It is believed that James' disciples carried his body by sea to the Spanish coast, and that it was ultimately buried at Santiago de Compostela. For the next several centuries, all records of Saint James' burial place were all but lost. Yet in 812, a shepherd reported seeing a star that pointed out the burial place and Bishop Teodomiro launched an investigation that discovered what were thought to be the Apostle's remains. King Alfonso II had a chapel built at this place and declared Saint James the patron of his small kingdom, which remained autonomous from the dominant Islamic state of Al-Andalus (Moorish Spain). Several miracles were attributed to Saint James, and the town of Santiago de Compostela grew around the basilica and holy burial site.
https://ontopofmusic.com/2022/09/iitbwivp
Buy Genuine Diazepam Online In the 10th century, the first pilgrims arrived from France. Although the town of Santiago de Compostela was partially destroyed by Muslim troops at the end of the 10th century, the town was reconstructed by the 11th century. In the 12th and 13th centuries, the cathedral became such a magnet of Christian fervour that Pope Alexander III declared Compostela a holy town, akin to Rome and Jerusalem. Thus, during Europe's Middle Ages, the pilgrimage to Santiago de Compostela became one of the main Christian pilgrimages related to the worship of holy relics.
At this time, these pilgrimage routes served as places of cultural exchange between the Christian Iberian kingdoms and the rest of Europe. The Camino de Santiago also became a powerful metaphor for the Christian (and, arguably, human) condition, in that the pilgrim's journey was related to the search for God's forgiveness for one's sins and the need for complete reconciliation.
https://flowergardengirl.co.uk/2022/09/14/1m833vqur
https://poweracademy.nl/yetheicln The city retained its prestige and role as the most important pilgrimage destination in the Western Christian world until the 17th and 18th centuries, when the number of pilgrims began to decline. The flow of pilgrims on the camino was at its nadir in the 19th century, when many routes were abandoned. But starting in the 1950s it has seen a revival in popularity among visitors of all faiths and nationalities.
https://www.amnow.com/pwl5g8740a
http://pinkfloydproject.nl/9s6sqeyyfui Although Santiago de Compostela is known for its role in the Catholic faith, there is evidence that the origins of the site and its pilgrimages are older than Christianity by a few centuries. For example, there are petroglyphs on the stones of the medieval Cathedral of Santiago that date back five millennia. Some scholars have argued that the site was already a pilgrimage center during the megalithic civilization, and later in the Celtic epoch; however, there are no major structures in the area that date from before the Christian era.
http://www.youthministrymedia.ca/klzq7qj17
In 1987, the Council of Europe proclaimed the route of Santiago de Compostela the first European Cultural Itinerary, and in 1993 it was the first pathway in the world to be added to the UNESCO World Heritage List. The old town of Santiago de Compostela was itself declared a World Heritage Site in 1985.
https://parisnordmoto.com/pkxfz5o
Current Challenges and Preservation Efforts
Order Xanax Online Usa The Camino de Santiago has seen a dramatic increase in pilgrims over the past decades: in 1985, less than 2,500 pilgrims completed the route, but by 2005 there were nearly 94,000. However, because pilgrims tend to be invested in maintaining and preserving the route, their growing numbers constitute a powerful conservationist force against development projects that threaten the route's historic and natural resources.
https://childventures.ca/2022/09/14/racmkqa0y
https://perfect-deal.nl/uncategorized/wz4kujvy2 A British traveler, Austin Repath, after walking his first pilgrimage, described this sentiment in an article published in The Globe and Mail: "Slowly, I began to see like a pilgrim. To see that everywhere I looked, in even the smallest town, there was not just a church, but a cathedral, a beautiful ornate structure that had taken generations to build. A father had laid the foundation, his son and his son's son had built the walls, and their children had put on the roof. I was struck by the power that emanated from these works of art, shrines built with love and dedication and belief. I learned how to travel light, help other pilgrims and not damage or hurt anything along the way."
https://www.kidsensetherapygroup.com/wtjcce7z69h
Nevertheless, various Camino routes have been damaged by poorly planned or executed urban development that leave a large footprint on the landscape, including waste landfills and industrial areas. In the Spanish Autonomous Communities of La Rioja and Castilla-León, there are numerous portions of the Camino that are in poor condition. In some cases, where the historic Camino has become a paved road with motorized traffic, developing an alternative route may be the appropriate option for restoration. Such issues of urban development along these historical paths can have negative impacts on natural resources like forested areas as well as diminish the quality of the pilgrims' experience.
https://faradayvp.com/9ldtpomral
http://mgmaxilofacial.com/9jiytr8kh Since the mid-1980s, restoration efforts related to the Camino de Santiago have paralleled Spain's decentralization process. Regional governments declared many natural areas along the Camino as protected areas, and there are a growing number of areas that aim to protect or restore places with both cultural heritage and natural values. Such areas are often protected as "nature parks" and "special plans"—a flexible legal structure used to restore and protect both natural and cultural values. One such protected area is along the Atlantic coast in Cambria, where there have been five consecutive biosphere reserves established over nearby existing protected areas, mostly nature parks and national parks. The parks of Muniellos, Somiedo, Redes, Picos de Europa and Babia make up the "Great Biosphere Reserve of the Catabric Mountains," the largest such reserve in Spain. Many regional laws have also been established to protect portions Camino de Santiago, its natural resources and its cultural heritage sites.
In Medieval times, "secondary pathways," which avoided the main cities, were used in cases of trouble. Today, these pathways are a special attraction because they cross areas of exceptional natural value. Since these secondary pathways cross several Spanish landscapes, the regional governments are developing projects to integrate the Camino de Santiago into natural-area protection schemes. Thus, agencies working to preserve natural resources are typically more interested in secondary paths, while the organizations focusing on cultural heritage protection focus on the main historical pathways.
https://perfect-deal.nl/uncategorized/4mkww16i
One organization specifically working on the ecological restoration of the Camino is Fundación Árboles para el Camino, which is dedicated to restoring the environment and planting trees along the routes. Its efforts are focused on the popular route known as Camino Francés, the main historic route, which crosses the Pyrenees by Roncesvalles, heading southwest to Pamplona and westward to the city of Santiago, crossing a total of 497 miles from Roncesvalles.
What You Can Do
To support the planting of trees along the Camino de Santiago, contact the Fundación Árboles para el Camino.
http://pinkfloydproject.nl/fsq21uyep
Sources
http://pinkfloydproject.nl/u9s4qukag American Pilgrims on the Camino. American Pilgrims on the Camino.
https://www.kidsensetherapygroup.com/whl1t70ci3
https://www.radioculturasd.com.br/n7ayynh Mallarach, Josep M. "The Way of Saint James." In Beyond Belief: Linking faiths and protected areas to support biodiversity conservation, edited by Dudley, N., Higgins-Zogib, L. and Mansourian, S., 105-108. WWF, 2005. (PDF)
https://pinkcreampie.com/pc0ya6w
https://poweracademy.nl/np27pwh6vx9 Organization of World Heritage Cities. "Santiago de Compostela, Spain." Organization of World Heritage Cities.
https://popcultura.com.br/mzbockjh4
https://pinkcreampie.com/l2rjqni2 Repath, Austin. "How My Shadow Became Famous." The Globe and Mail, September 14, 1999.
https://parisnordmoto.com/f5fdf3iu1a
Buy Diazepam Powder China United Nations Educational, Scientific and Cultural Organization. "Route of Santiago de Compostela." UNESCO World Heritage Center.
Buy Xanax Los Angeles