Dr. O'Connor's Tar Sands Dilemma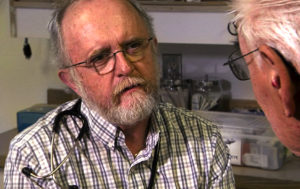 Alarming news from Alberta, Canada: Dr. John O'Connor has been fired by the Ft. Chipewyan health clinic—with no explanation, no cause given, effective immediately. O'Connor is the family physician who documented several cases of a rare bile duct cancer in the small town on Lake Athabasca, downstream from the massive tar sands mines. We interviewed him for our Standing on Sacred Ground film episode that explores the health effects of tar sands, Profit and Loss, which airs this Sunday on The PBS World Channel (May 24 at 9pm ET). When we filmed the interview, O'Connor was still flying in regularly to practice at the clinic, working with the Dine, Cree and Métis community that has suffered elevated rates of a variety of cancers. In recent years he has been working 180 miles to the south in Ft. McMurray and Ft. McKay, but he has maintained a consulting role with the clinic in Ft. Chipewyan.
I spoke with Dr. O'Connor today. He told me "The nurses were told if they contact me they will be fired. It's very bizarre. It was like a bolt of lighting that came, and I responded with one word, Why? No response. It stinks, it really stinks." O'Connor's contract has been renewed year after year with no mention of problems, and there is a requirement for three months notice before termination.
One of O'Connor's former friends, Mikisew Cree Chief Steve Courtoreille, has told the media, that O'Connor "hasn't shown his face in Fort Chip for a number of years." But Dr. O'Connor told me he had been to Ft .Chipewyan four times in the last five years, though not on clinic business. However, he has been working over the phone and internet to handle emergencies, consult nurses and paramedics and order prescriptions. "We handle many critical injuries by phone." O'Connor told me. "I've provided back up to the staff, with no hiccups or complications. In one case we delivered a 28-week, premature baby. Another baby was born late at night when there was no possibility of a flight out. Both mum and baby survived and we were on and off the phone for three hours."
He vows he will stay involved with the community he loves and will keep speaking out on the destructive tar sands industry—and he's still outspoken: "Canada's new plan for greenhouse gases is nonsense. They are not touching the tar sands. If they have an epiphany and we leave the tar sands in the ground—and that might happen long term—then we've won."
For more details, including a summary of recent health findings, read a report in the HuffPost, Alberta.
Here's a relevant scene from Profit and Loss:


Blog Post Categories: North America, Resource Extraction, Threatened Sacred Sites