Fire and Water on the Mountain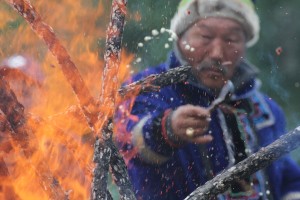 The fire was hungry. It consumed milk, vodka, bread, cheese, lamb's heads, cow's legs, barley, cedar, juniper, water and the prayers and songs of a dozen shamans from all over Asia. The fire roared, sparked, smoked, called out to ancestors and spirits, and seemed very happy to be fed by the people. On the summer solstice, beneath Uch Enmek Mountain in the Altai Republic of Russia, our friends Maria Amanchina and Danil Mamyev presided over a three-day ritual that honored and blended many fires into one fire. As Danil described it, the 6th annual ceremony linked sacred sites and their guardians, strengthened lands and waters, deepened traditional knowledge, and clarified the path forward.
When the Altaians made a pilgrimage to Mt. Shasta in northern California in November of 2007 (four months after our first film trip to Altai), a deep bond was formed. Beyond giving us a great film scene to link the stories of the Altaians and Winnemem Wintu, the discovery that the Winnemem sacred spring on Mt. Shasta had gone dry for the first time in tribal memory created a reciprocal relationship — a need for support, dialogue, prayer and mutual care. So when the Altaians invited Winnemem Chief Caleen Sisk to visit their Golden Mountains to gather water from a sacred spring there, to help heal her spring back home, the invitation needed to be met with another pilgrimage.
With a grant from the Trust for Mutual Understanding, I traveled to Altai for the fire ceremony with Caleen, along with my wife, co-producer and writer Jessica Abbe, and our two teen-aged children, Miles and Fiona. Caleen's primary quest was a journey to Uch Enmek Mountain to collect the water to bring back to Mt. Shasta. For Jessica and me, our main purpose was premiering the first episode of our new Standing on Sacred Ground film series in the place the story starts: the mountains of Altai. With the Winnemem story following Altai's in the first hour of the series, it was appropriate to have Caleen participate in the fire ceremony and then travel with Maria and Danil to sacred places around Altai during our two-week visit. For Miles and Fiona, it was a chance to see why their dad has been going away for such long trips over the past seven years.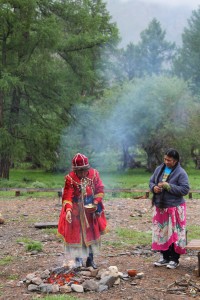 On the second day of the ceremony, Caleen was asked to do a Winnemem ritual around the fire. Her suitcase was still lost in transit so her regalia was missing. With the other shamans fully decked out in hundred-year-old feathers and ribbons, Caleen was down to her bare essence, and she shone. She explained that protecting water is her mission in life, helping the earth find a natural balance between fire and water, so her ritual focused on the waters. As she prayed and sent pipe smoke skyward a gentle rain began to fall, a beautiful female rain, a lush enveloping mist. It was awesome — and everyone loved Caleen.
Next year the fire ceremony will move east to Mongolia. When the Mongolian shaman, Buyanbadrakh, whose day job is as a real estate analyst at Khan Bank in Ulaanbaatar, started his ritual on the final morning, there was electricity in the air.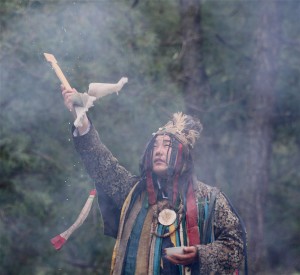 Buyanbadrakh went into a trance that lasted more than an hour and had everyone on the edge of their seats. As his assistant gently offered him a pipe, fed him vodka from a bowl, and wrote down the flood of words that flowed like a waterfall, Buyanbadrakh pounded his drum, made the sounds of a horse at work, chanted throat songs, and laughed a storm of wild cackles. When he returned and settled down, with the help of a dozen carefully-selected helpers, Buyanbadrakh reported that he had overcome 33 obstacles, encountered every one of the 99 Tengri gods, and most importantly, met the Spirit of Altai.
After the huge closing fire under a rising full moon, Danil invited everyone to the world premiere of Pilgrims and Tourists in the Pastures of Heaven, the first episode of our new four-part series, complete with Russian subtitles. As the shamans ate dinner in the central yurt and the stubborn Siberian sun approached the horizon at 10pm, we set up an outdoor screen and projector with some trepidation: would anyone come? They all came. In the emotional discussion that followed the film, here's a sample of the comments: "It is very, very clean." "It touched my heart." "I just stood there and cried." "I'm so happy, and a little surprised, that non-indigenous people have made this film." "Many people were crying." "We talked about it all night." "We have just the same problems." "Caleen is so strong; she is an important leader." "We are together, we are united, we cannot be defeated."
Our amazing journey continued on the following day (after Caleen's suitcase finally arrived) as we mounted horses and headed toward Uch Enmek Mountain. There were nine of us: Chichen the horse handler and guide, Danil, Caleen, Jessica, Miles, Fiona, Irina the translator, myself, and a dog we called Sam (who ran with us all three days and upon returning home we learned was really named Mukhtar). Last time I was up in the headwaters of the Karakol Valley with Will Parrinello and Andy Black we filmed Danil in a blizzard, this time the sunshine was glorious and the wildflowers were everywhere. Caleen's obstacles continued as she tore a calf muscle mounting a moving horse, but she found a walking stick and carried on with great humor and determination all the way to two small lakes at the foot of the sacred mountain. Danil lit a fire and introduced Caleen to "the eyes of Uch Enmek." He told us that one lake is a lake of sadness, "the crying lake," and the other a lake of joy, "the laughing lake." Caleen circumambulated each lake slowly and gathered the water to take back to Mt. Shasta, to connect the mountains spiritually. Hearing Caleen sing to the lakes brought tears to Danil's eyes. He said, "Perhaps the lakes were suprised to hear songs they have not heard for a thousand years. I think they liked it very much."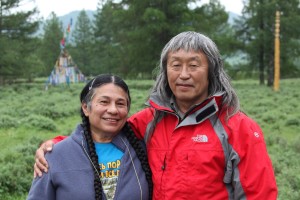 One week later we all stood in the MultiMedia Museum in Moscow and presented the film to a lively Moscow audience. With Danil, Caleen and Chagat Almashev from Foundation for Sustainable Development of Altai on hand, the discussion lasted late into the night. Our pilgrimage was complete. The film is born — and the waters of Altai are heading to Mt. Shasta.
Blog Post Categories: Threatened Sacred Sites