Status

Endangered

Country

United States

Report By

Callie Shanafelt Wong

Thanks

Juan Mancias,
Tribal Chairman
Carrizo/Comecrudo Tribe of Texas


Posted

March 2, 2018

Where the life-giving Rio Grande enters the Gulf of Mexico south of Port Isabel, Texas, you might expect to find land sacred to Native Americans, and indeed, the Garcia Pasture has burials, discrete shell-working areas, and contact period artifacts of the Esto'k Gna, the Carrizo/Comecrudo Tribe of Texas. Garcia Pasture is considered one of the premier prehistoric archaeological sites in Cameron County by the National Park Service and is listed on the National Register of Historic Places.
For Juan Mancias, Tribal Charmain of the Carrizo/Comecrudo Tribe of Texas, whose grandmother's name was Garcia, the pasture is a sacred place. "We did all our dances there," said Mancias.
Now, a proposed pipeline and liquefied natural gas terminal in the port of Brownsville threatens the destruction of the site and other burials in the area.
"Every time they dig up one of our people they're killing us again," said Mancias.
President Trump's proposed border wall also threatens these ancestral remains. The Department of Homeland Security has already suspended the Native American Graves Protection and Repatriation Act (NAGPRA) in some areas so wall construction can begin. "It means they can dig any grave, anything they want," Mancias said. "We have nobody helping us."
The Land and Its People
The Esto'k Gna people—commonly known by the name the Spanish gave them, Carrizo/Comecrudo—originally lived along the Rio Grande which they call Ahmatau Mete'l Akna or big spirit river. They traveled by canoe or on foot throughout the area hunting, fishing, harvesting food, visiting relatives and conducting traditional rituals.
"For us it was a Life Way," says Mancias. "People nowadays call it 'ceremony' because they're colonized into a religious mentality. To the native person, whatever you were doing every day was a prayer. You don't have to set it aside."
In 1519, Esto'k Gna defended themselves from an attack by Spaniards stationed in Jamaica, who came up through the mouth of the Rio Grande River. For the next three centuries they defended themselves from continuing kidnappings and invasions by Spanish Mexicans. By the mid-1800s they had adapted by becoming cowboys and influenced the formation of cowboy and Tejano cultures.
The history of Native Americans in Texas is a complicated one. During the Spanish conquest most tribes were missionized, killed by disease or captured into slavery and sent to silver mines in Mexico.
During the period of Texas' independence from 1836 until annexation by the United States in 1845, President Mirabeau B. Lamar expanded the Texas Rangers militia to wage an all-out war on native cultures. Indigenous people were either killed or forced into other states.
Today, a Texas Parks and Wildlife activity book for children offers a succinct summary: "By 1875, all of Texas' original Indian groups had been killed or forced to move to Oklahoma."
But Mancias says his ancestors didn't leave, they went into hiding because it wasn't safe to be Native American. "Both sets of my grandparents were still living out of fear of the Texas Rangers throwing them into reservations," said Mancias.
In some cases, Anglo colonization in other regions of the United States forced the migration of tribes from their original homelands into Texas. Today, three tribes have reservations in Texas, but none of them lived in Texas before the Spanish invasion.
Over time, the identity of the Esto'k Gna has been confused with other tribes, such as the Aztec, due to similar pronunciation of Estok. But recently there has been a resurgence and understanding of the people—they've come out of hiding. In 1988, Mancias and others began advocating for federal recognition and broader cultural understanding of the tribe.
The tribe is still not federally-recognized although it is recognized by the National Park Service.
According to Chairman Mancias, the Esto'k Gna were the original people of the sacred Peyote Medicine and they shared their practice with the Lipan Apache, Comanche and Kiowa. This was the foundation of the Native American Church.
Current Challenges and Preservation Efforts
In 2015, Texas LNG proposed three liquefied natural gas terminals in the port of Brownsville. Residents are worried about towering storage tanks filled with flammable gas, tall polluting flare stacks, new natural gas pipelines, and massive tanker ships that could clog up the ship channel. The entire project endangers the Garcia Pasture and other sacred sites in the area.
The Garcia Pasture was added to the National Register of Historic Places in 1972, but its precise location is restricted as confidential, sensitive information. Mancias says this was initially done to prevent looters from raiding the site. But now confidentiality is a problem because the Army Corps of Engineers won't release the boundary of the site and Mancias worries they are going to allow the destruction of land that he considers sacred—by shrinking or moving the boundaries to suit the LNG project.
In addition to concern over the land, Mancias is concerned for the sacred wildlife in the area. "The dolphins that are there are a part of our clan," said Mancias. He's concerned that the dolphin population will be threatened by the constant dredging of the ship channel so that huge LNG tankers can get into the terminal. "The dolphins are either going to be killed or driven out of there," Mancias says. "The propellers on those ships are so big."
In May 2017, Chairman Mancias traveled with other activists to France (where fracking is banned) to lobby banks to disinvest in the Texas LNG project and other destructive pipelines such as the Dakota Access Pipeline. In October 2017, BNP Paribas SA announced that it will no longer finance shale and oil sands projects.
The Esto'k Gna are also threatened by President Trump's proposed border wall. "Putting up that wall, they're going to be digging up our ancestral remains. We lived all along that river," Mancias said. "We have connections to the river from first contact."
What You Can Do
Donate to Carrizo/Comecrudo Tribe of Texas Legal Defense Fund.
Sign the Carrizo/Comecrudo Tribe of Texas petition to stop the Texas LNG proposed valley crossing pipeline and export terminal.
Sources
Juan Mancias & Andy Torres. "The Biggest Tribe You Never Learned About In Your Texas History Books." July 23, 2015
Bekah Hinojosa. "Rio Grande Valley Native Lands Under Threat by LNG Companies." November 21, 2016
Bekah Hinojosa. "I Followed LNG's Financial Backers All The Way to Paris, France." May 31, 2017
National Register of Historic Places "Texas—Cameron County."
A Notice by the Homeland Security Department. "Determination Pursuant to Section 102 of the Illegal Immigration Reform and Immigrant Responsibility Act of 1996, as Amended." August 02, 2017
Maya L. Kapoor. "Legal or not, Trump's wall is already being built." September 25, 2017
Fabio Benedetti Valentini and Russell Ward. "BNP to Halt Shale Oil Financing, Expand Funds for Renewables." October 11, 2017
Mark Spier. "RE: Texas LNG, Port of Brownsville, TX, Docket No. PF15-14-000, Draft Resource Reports." February 5, 2016
Jason Mark.  "Border Wall Threatens Native American Sovereignty." August 20, 2017
Jason Mark. "How Trump's Border Wall Could Block the Most Exciting Wildlife Comeback in North America." August 22, 2017
The University of Texas at Austin, Texas Beyond History. "The Passing of the Indian Era."
Texas Parks and Wildlife Department. "Learn about Texas Indians." 1996
Continue Exploring Sacred Sites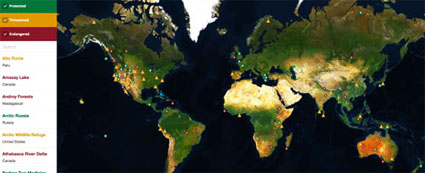 Explore a world of sacred lands and discover more than 100 site reports using our interactive map.