IUCN Approves Sacred Natural Sites Motion
On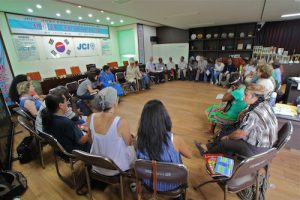 September 12, delegates attending the World Conservation Congress in Jeju, South Korea, voted overwhelmingly to approve a motion aimed at strengthening protection for sacred places. The congress is convened every four years by the International Union for the Conservation of Nature and represents governments, NGOs and environmentalists focusing on global issues. Ten thousand people attended this year's congress. The motion, "Sacred Natural Sites – Support for Custodian Protocols and Customary Laws in the Face of Global Threats and Challenges," was drafted by SLFP's Christopher McLeod, along with Rob Wild and Bas Verschuuren of the Sacred Natural Sites Initiative, Liz Hosken of the Gaia Foundation and Gleb Raygorodetsky of the United Nations University, who all went to the congress to continue developing a global network of indigenous sacred site guardians and allies.
The motion is the second one on sacred natural sites and follows a similar motion — "Recognition and Conservation of Sacred Natural Sites in Protected Areas" — approved at the last World Conservation Congress in Barcelona, Spain, in 2008. These two motions grew out of McLeod and Wild's work producing the IUCN Best Practice Protected Area Guidelines, "Sacred Natural Sites: Guidelines for Protected Area Managers," which were launched in Barcelona.
"Protected areas," such as national parks, comprise more than 10 percent of the earth's surface. Many of these areas contain places held sacred by indigenous people who may be denied access and who may have no role in taking care of these important places. Meanwhile, threats from development, tourism and mining are everywhere on the rise.
After the IUCN guidelines came out in 2008, Hosken took a copy to the Venda community in South Africa to see if the guidelines could be useful protecting the sacred Phiphidi Waterfall (more information at Gaia Foundation website), which was threatened by tourism development. The Venda community welcomed the guidelines and the motion, but more importantly they responded by articulating their own community governance laws for Venda sacred sites. The Venda, along with traditional custodians from three other African nations, then drafted a "Statement on Common African Customary Laws for the Protection of Sacred Natural Sites," which the Gaia Foundation published, and it is valuable reading for indigenous communities working to protect sacred sites.
This year, recognizing that indigenous custodians the world over have their own protocols and guidelines for taking care of sacred places, the authors of the motion wanted to try to gain formal IUCN recognition of such indigenous customary laws, protocols and governance systems that have long protected sacred sites and territories around the world. This year's motion was approved by 100 percent of NGOs and 97 percent of the governments who voted.
***
SLFP would like to thank those who sponsored the motion and everyone who voted for it, including our sponsor, Fundacion Pro-Sierra Nevada de Santa Marta (Colombia), and co-sponsors, Fundación Urundei (Argentina), Center for Humans and Nature (USA), Applied Environmental Research Foundation (India), Fundación para el Desarrollo de Alternativas Comunitarias de Conservación del Trópico (Ecuador), Terralingua (Canada), The Christensen Fund (USA), Indigenous Peoples of Africa Coordinating Committee (South Africa) and The Wilderness Foundation (South Africa).

Blog Post Categories: Threatened Sacred Sites