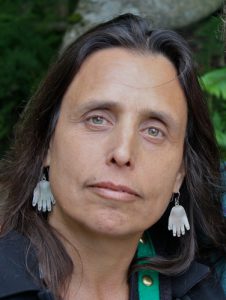 Two thought leaders with clashing viewpoints on the future of environmental stewardship will be going head to head on the topic of whether technologies like nuclear power can be used to foster sustainability, at 7 p.m. on July 21 at the David Brower Center in Berkeley, as part of  Earth Island Presents.
Winona LaDuke, Anishinaabekwe (Ojibwe) environmentalist, economist and writer will appear with Stewart Brand, author, former editor of the Whole Earth Catalog and founder of several organizations like the Global Business Network. The discussion promises to be enlightening and contentious as Brand is a proponent of nuclear power, GMO crops and geoengineering  (check out his book, "Whole Earth Discipline"), while LaDuke advocates for a nuclear-free future, green energy and ecological practices. LaDuke's latest book, "The Militarization of Indian Country from Geronimo to Bin Laden," addresses military impacts on Native Americans, from naming to nuclear testing.
Journalist Mark Hertsgaard, environment correspondent for The Nation and author of the recent book "Hot: Living Through the Next Fifty Years on Earth," will moderate the discussion.
Don't miss this event! Get your tickets now.
What: Fix or Nix: The Environment & Technology
Mark Hertsgaard in conversation with Stewart Brand and Winona LaDuke
When: Thursday, July 21, 2011
7:00 p.m.; doors open at 6:30 p.m.
Where: Richard & Rhoda Goldman Theater
The David Brower Center
2150 Allston Way (at Oxford), Berkeley
One block from downtown Berkeley BART
Tickets: $10-$20 for adults, $5-$10 for ages 21 and under (buy them here)
For more information call 510-859-9100.