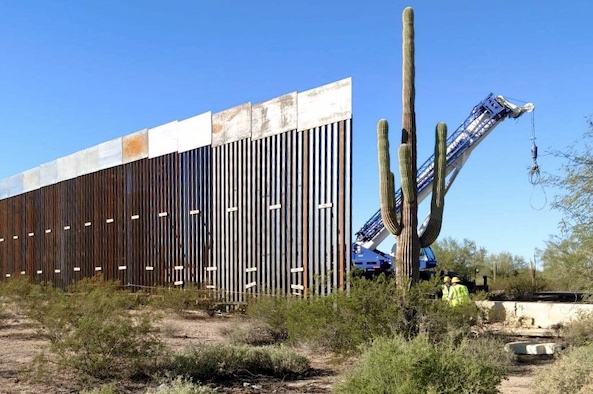 Monument Hill & Quitobaquito Springs
Status

Endangered

Country

United States

Report By

Callie Shanafelt Wong

Thanks
and
photo
credit

Laiken Jordahl, Center for Biological Diversity

Posted

August 26, 2020

President Donald Trump's U.S.­–Mexico border wall threatens multiple sacred sites of the Tohono O'odham Nation in Arizona, including the sacred Quitobaquito Springs and burial and ceremonial grounds on what is known as Monument Hill in Organ Pipe Cactus National Monument. While raising awareness on a recent National Congress of American Indians webinar, Tohono O'odham Chairman Ned Norris said, "This current administration has failed us. They continue to fail us every single day they allow the Trump administration to destroy sacred sites, archeological sites sacred to us."
The Trump Wall
In February 2020, the construction contractor building the border wall in southern Arizona for the Trump administration began blasting through Monument Hill in the Organ Pipe Cactus National Monument, a site sacred to the Tohono O'odham people. Though they sent a 2019 request for consultation, the tribe was only notified of the destruction on the day of the blasting.
Testifying before a congressional subcommittee, Tohono O'odham Chairman Ned Norris became emotional watching footage of the destruction.
"It's hard to see the blasting that you showed on the video today," Norris said while choking back tears, "because I know in my heart, and from what our elders have told us, that that area is home to our ancestors. Blasting and doing what we saw today has totally disturbed, totally forever damaged our people."
In addition to being the site of known burials dating back more than 10,000 years, the area is a ceremonial ground for Hia-C'ed O'odham, one of the cultural groups that comprise the Tohono O'odham Nation. It is also the site of historic battles between the Apache and the O'odham.
As construction progresses along the U.S.–Mexico border the contractors are impacting another sacred site to the Tohono O'odham, the Quitobaquito Springs, the only water in the Sonoran Desert and the only home for two endangered species, the Sonoyta pupfish and Sonoran mud turtle. Water levels at the springs have already reached historic lows since border wall construction began in the area. There are known burials near the springs, and it is the site of the O'odham yearly salt pilgrimage.
Such a large project in a sensitive area would typically require formal consultation and adherence to the Native American Graves Protection and Repatriation Act, the Endangered Species Act, the National Environmental Policy Act, the National Historic Preservation Act, the Archaeological Resources Protection Act, the Antiquities Act, and the American Indian Religious Freedom Act, but the Trump administration is using the 2005 REAL ID Act to waive these regulations and fast-track construction of the border wall.
While Norris was clear in his testimony before the U.S. House of Representatives Committee on Natural Resources that the Tohono O'odam are concerned about border security, he was also clear that the border wall does not bring security.
"A wall is extremely expensive for the American taxpayer, is ineffective in remote geographic areas like ours, and is highly destructive to the religious, cultural and environmental resources on which our members rely and which make our ancestral lands sacred to our people," Norris told the committee. "Ongoing construction of the wall already has and will continue to disturb and destroy culturally significant sites and cultural resources, tribal archaeological resources, and sacred sites—and desecrate human remains."
The Land and its People
The Tohono O'odham Nation is a federally recognized tribe with more than 34,000 members living in the United States. For thousands of years, their ancestors, the Hohokam lived along the Sal, Gila and Santa Cruz Rivers in what is now Arizona and northern Mexico. They built sophisticated canal systems to irrigate their crops of cotton, tobacco, corn, sugar cane, beans and squash. They developed and continue to use meteorological principles for planting, harvesting and determining ceremonial cycles. They created inventive methods for storing and delivering water in the desert environment.
In addition to extensive farming, they gathered wild plants like saguaro fruit, cholla buds and mesquite bean pods. Their website states, "We hunted for only the meat that we needed from the plentiful wildlife, including deer, rabbit and javelina."
When the U.S.–Mexico borderline was drawn in 1854, the O'odham communities were split in two. Current reservation boundaries include a 62-mile border with Mexico. Approximately 2,000 O'odham members live in 17 communities in Mexico. They all share a language, culture, religion and history. Members regularly cross the border for ceremony at sacred sites as well as to visit family and friends.
The current Tohono O'odam reservation spans a fraction of their territorial homeland. Their original territory included what is now the Cabeza Prieta National Wildlife Refuge, the San Bernardino National Wildlife Refuge and the Organ Pipe Cactus National Monument, a UNESCO biosphere reserve.
Current Challenges and Preservation Efforts
In 2016 Donald Trump campaigned for president chanting "build the wall," despite research showing the ineffectiveness of a U.S.–Mexico border wall in preventing illegal immigration and drug trafficking. At the beginning of his presidency in January 2017 Trump signed Executive Order 13767 calling for wall construction to begin using current funding, but construction didn't begin due to unclear directives. In December 2018 the government shut down over Congress's refusal to include $5.7 billion for a border wall in the budget. So, in February 2019 Trump declared a national emergency to divert $2.5 billion from defense spending to build the wall. In September 2019 the administration diverted another $3.6 billion from the military. As of August 2020, 275 miles of wall has been built along the U.S.–Mexico border according to Customs and Border Patrol. The administration continually uses the 2005 REAL ID Act waiver to ignore laws that could block or slow wall construction.
The Tohono O'odham Nation consistently takes action to support border security. The Nation has spent more than $3 million in tribal funds to secure the border and worked with federal agencies including Customs and Border Protection (CBP) and Immigration and Customs Enforcement (ICE). But as Chairman Norris points out above, a border wall is ineffective in their area.
Today the blasting to make way for the wall on Monument Hill continues and construction crews get closer and closer to Quitobaquito Springs. CBP has agreed not to drill any wells within five miles of the sacred spring, but the Nation is still concerned the construction in the area will continue to deplete the groundwater.
The Tohono O'odham want CBP to demarcate a two-mile buffer zone around Quitobaquito Springs and five other sites along the border. These zones would not include a wall but would be supplemented with surveillance technology.
The Tucson-based Center for Biological Diversity has filed six lawsuits against the Trump administration to block the wall. One is against the administration's use of REAL ID waivers.
Two other sites in the area will be negatively impacted if construction continues as planned. First, an area called Las Playas that is a sacred ceremonial ground for the Hia-C'ed O'oham, and also a burial ground in the Cabeza Prieta Wildlife Refuge, which lies directly in the path of construction.
In 2019 the Washington Post exposed an internal National Park Service report that warned that there are up to 22 archaeological sites that "likely will be wholly or partially destroyed by forthcoming border fence construction."
What You Can Do
In his testimony before the Committee on Natural Resources, Tohono O'odham Chairman Norris asked that Congress remove or limit the Department of Homeland Security's ability to waive federal statues in order to rush wall construction.
The Center for Biological Diversity is also fighting these waivers. The Center's Laiken Jordahl wrote: "Depending on what happens in November, we may have a real chance to pass a border reform bill that does that, identifies sections of wall to be taken down, and provides reparations for indigenous nations who have had sacred sites desecrated," (in recent email correspondence). Click here to join their campaign.
You can also call your representative and ask them to support Requirements, Expectations, and Standard Procedures for Executive Consultation with Tribes Act (RESPECT Act) proposed by Rep. Raul M. Grijalva (D–AZ). The Act would prescribe procedures for effective consultation and coordination by federal agencies with federally recognized Indian tribes regarding federal government activities that impact tribal lands and interests to ensure that meaningful tribal input is an integral part of the federal decision-making process.
Sources
Tohono O'odham Nation. Official website of the Tohono O'odham Nation.
Natural Resources Committee Subcommittee Hearing: Destroying Sacred Sites and Erasing Tribal Culture: The Trump Administration's Construction of the Border Wall. 116th Cong. (2020) Testimony of Chairman Ned Norris
Povolny, Bonnie. "Tohono O'odham Nation: U.S. Blasts a Monument to Build a Wall." Cultural Property News, February 27, 2020.
Main, Douglas. "Sacred Arizona spring drying up as border wall construction continues." National Geographic, July 20, 2020.
Ortiz, Eric. "Ancient Native American burial site blasted for Trump border wall construction." NBCNews.com, February 12, 2020.
Ordway, Denise-Marie. "Building border walls and barriers: What the research says." Journalist's Resource, February 15, 2020.
Gibson, Emma. "Indigenous group reaffirms importance of Quitobaquito Springs amid border wall construction." Arizona Public Media, March 13, 2020.
Jordahl, Laiken. "Trump's wall is destroying the environment we worked to protect." Medium, January 30, 2020.
Deveraux, Ryan. "'We Are Still Here: Native Activists in Arizona Resist Trump's Border Wall." The Intercept, November 24, 2019.
"Park Service on Organ Pipe's Archaeological Sites." The Washington Post, September 17, 2019.
Carranza, Rafael. "O'odham sacred site near Lukeville blasted for border wall construction." Arizona Republic, February 7, 2020.
Stone, Erin. "Video shows groundwater drilling near sensitive spring as border wall construction continues." Arizona Republic, December 21, 2019.
Firozi, Paulina. "Sacred Native American burial sites are being blown up for Trump's border wall, lawmaker says." The Washington Post, February 9, 2020.
Gabbatiss, Josh. "Trump's border wall will not work 'no matter how high', scientists warn." Independent, February 17, 2020.
U.S. Customs and Border Protection. Border Wall System.
Continue Exploring Sacred Sites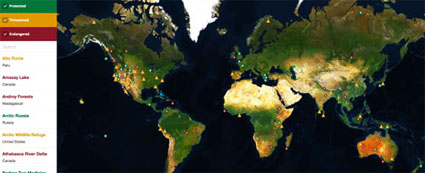 Explore a world of sacred lands and discover more than 100 site reports using our interactive map.