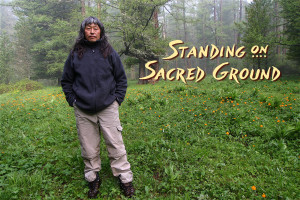 Please join us for the Moscow premiere of
Pilgrims and Tourists in the Pastures of Heaven
at the Multimedia Art Museum in Moscow on July 1. This hour-long documentary film is the first episode of the new four-part
Standing on Sacred Ground
series, and it will be screened with Russian subtitles.The film will be shown at the Multimedia Art Museum, Ostozhenka 16, on July 1 at 7pm, with Winnemem Wintu Chief Caleen Sisk from California, Danil Mamyev, Altaian cultural leader and founder of Uch Enmek Nature Park, and film director Christopher (Toby) McLeod all appearing in person to answer questions after the film.
In Pilgrims and Tourists in the Pastures of Heaven, indigenous shamans of the Altai Republic of Russia and the Winnemem Wintu Tribe of northern California tribe find common ground in defending ancestral burial grounds and protecting their sacred lands. In both countries, communities confront changes from modernism, recreational land use, and resource development. These two stories are the first of eight stories from around the world where indigenous communities are working to protect traditional lands and cultures.
The Standing on Sacred Ground series is produced by the Sacred Land Film Project of Earth Island Institute. Our Moscow screening is sponsored by the U.S. Embassy with funding from Trust for Mutual Understanding.