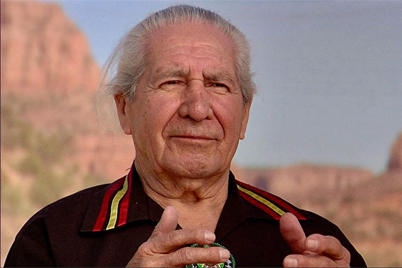 Onondaga elder Oren Lyons is one of the "big thinkers" we interviewed for our four-part series, Standing on Sacred Ground. Now in his 90s, Lyons is a chief, a faithkeeper, and a long-time messenger for the Haudenosaunee people. He calls himself "a runner." Throughout the interview, Oren shared his life lessons and insights through long stories that we could never include in their entirety in the film.
In Part Two, Oren explains the Haudenosaunee influence on the creation of the American government, shares a unique interpretation of The Wizard of Oz, and offers guidance toward a way out of our current predicament.
This episode was produced and written by Callie Shanafelt Wong and Toby McLeod. Audio sweetening by Leroy Clark at Sirius Sound.
We welcome you to download and play the podcast for personal use. You may not, except with our express written permission, reproduce, distribute or commercially exploit this copyrighted content.