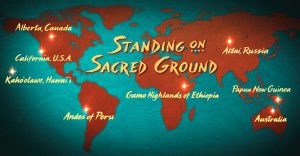 Standing on Sacred Ground is being broadcast on PBS stations all over the United States in May, as part of Asian Pacific American Heritage Month. For a full broadcast schedule visit our film website.The key "national broadcast" will start Sunday, May 17 at 9pm ET on The WORLD Channel.
Friends in the San Francisco Bay Area can catch the films on KQED as follows: KQED LIFE airs the series on Fridays at 7pm starting May 1. For Comcast viewers, this is channel 54.3. KCSM-HD will air the films on Fridays at 10 PM. For AT&T U-verse viewers, this is channel 1043. KQED Plus airs all four films starting at noon on Sunday, May 10. KQED-9 airs Profit and Loss on Tuesday, May 12 at 11pm and Islands of Sanctuary on Tuesday, May 19 at 11pm.
In Hawaii, where our fourth film, Islands of Sanctuary, concludes with the beautiful story of Kaho`olawe, the films air on two Saturday nights, May 9 and May 16. KHET has altered the order of the shows: Profit and Loss airs Saturday, May 9 at 9pm followed by Pilgrims and Tourists at 10pm. On Saturday, May 16, Islands of Sanctuary leads off at 9pm and Fire and Ice airs at 10pm. Mahalo and aloha!