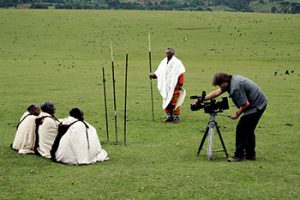 We are just a few months away from completing all four hours of our Standing on Sacred Ground series. It will provide a powerful tool to indigenous allies fighting to protect sacred places around the world. (Watch the trailer here.) Your tax-deductible donation will help us finish the series and give you the satisfaction of joining a time-tested team with a solid track record of effective education and advocacy that results in cultural and environmental preservation.
At the Sacred Land Film Project, we believe the values, worldviews and sacred places of indigenous peoples hold the key to restoring our damaged relationship with nature. Our greatest hope is that our work will help ensure a vibrant future for generations to come and for the ecological wisdom of indigenous cultures. But we cannot accomplish these important goals without your help now.
To help us finish the film series, one of our donors has offered a challenge grant to match all donations up to $25,000, so your gift will be doubled!
Please click here to make a tax-deductible donation. We are confident you will feel proud to contribute to the significant impact these films will have on our world – and are already having on the world.
Thank you very much for your interest and support!