POV Streams In the Light of Reverence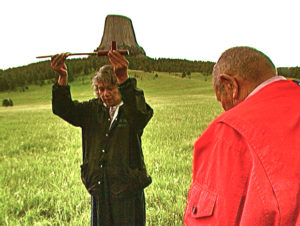 We are thrilled to announce that the acclaimed PBS series POV is streaming our 2001 documentary, In the Light of Reverence, from May 7 to August 7. We appreciate POV providing the perfect lead-in to our PBS WORLD Channel broadcast of Standing on Sacred Ground, which starts Sunday, May 17 at 9pm ET. All of these films are really one long series of stories and this rebirth on POV offers me a chance to explain how Standing on Sacred Ground actually took more than 20 years to make…
The origin of Standing on Sacred Ground goes back to 1991, when we mailed a funding proposal for a four-part series on sacred places around the world to the Schumann Foundation and received a phone call saying that Bill Moyers, the chair of the foundation's board, loved the proposal and wanted to provide a research grant. The foundation's executive director, John Passacantando, explained that Moyers' life was changed by the epic series of interviews he had just done with Joseph Campbell, and films on sacred places really resonated. But, John said, "You didn't ask for enough money. You asked for $15,000. How about $50,000?" Music to a hungry filmmaker's ears. And that was how it all began.
I took the Schumann grant and made a round-the-world research trip to Australia (where I met people we eventually interviewed in 2007 for Islands of Sanctuary) and to Nepal, India, Egypt, Israel and England. When I got back to New York in the spring of 1992, I met with John Passacantando and Bill Moyers and Bill said, "The economy went into a recession while you were gone, and I don't think you are going to be able to raise the money to produce your global series."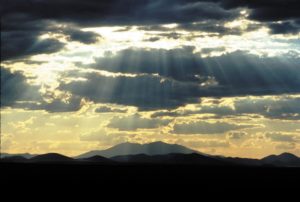 It turned out he was right, but I was able to scrape together enough money to stay closer to home and continue working with the Hopi on sacred site conflicts around Black Mesa. I met Wintu leaders Florence Jones and Caleen Sisk and started working with them to tell the story of their fight to stop a ski resort on sacred Mt. Shasta—and the resultant influx of New Agers to Panther Meadows. We began a long relationship that continues to flower with the Winnemem Wintu story in the first episode of the new Standing on Sacred Ground series, Pilgrims and Tourists. Finally, a lawsuit over rock climbing at Devils Tower National Monument provided us a great third story, and the very generous Vine Deloria, Jr.'s amazing interview gave the whole film a terrific intellectual anchor.
When In the Light of Reverence aired on POV it was seen by 4 million viewers, and the film has enjoyed a very strong distribution run through Bullfrog Films ever since. I frequently meet professors who say "I show your film every semester," and there have been more than a few students who have said, "That film changed my life."
Big thanks to the amazing team that stuck together for ten years to produce In the Light of Reverence: co-producer Malinda Maynor, writer Jessica Abbe, cameraman and editor Will Parrinello, cameraman Andy Black and narrators Peter Coyote and Tantoo Cardinal. Showing In the Light of Reverence in places like Australia and Hawai`i, while I was doing pre-production research and trust-building work in advance of filming Standing on Sacred Ground, really made a difference.
So, if you're interested and you missed the POV broadcast in 2001 you can now watch the prequel to Standing on Sacred Ground on the POV website for the next 90 days.
And don't miss our four new Vine Deloria Jr. extended interview film clips, a series of remarkable observations by the preeminent Native American intellectual of our time, which we will post on YouTube on Thursday morning.
Blog Post Categories: In the Light of Reverence, Threatened Sacred Sites