President Obama Needs to Hear from You!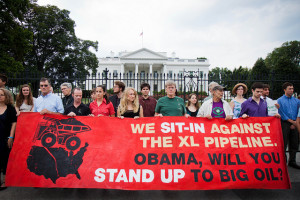 President Obama has sent a clear message to the environmental community: 'I need to hear from you loud and clear and often.' The economic and political pressure on the president to approve the Keystone XL pipeline is enormous. Recent rallies in Washington, D.C., were a great start, but a sustained outcry is imperative if Obama is going to make the courageous decision to deny the permit for the $7 billion pipeline, which would carry 830,000 barrels per day of tar sands oil to Texas refineries, mostly for export.In the second hour of our new Standing on Sacred Ground series, Profit and Loss, we devote a half hour to the cultural and environmental impacts of oil sands extraction in Alberta. The debate about the Keystone XL pipeline has understandably focused on inflated job projections, the likelihood of spills, threats to the Ogallala Aquifer, destruction of farmland and release of greenhouse gases. However, the best argument against the pipeline is the moral argument: tar sands is causing cancer death in native communities and fish deformities through massive contamination of water and air in territory protected by treaty with numerous First Nations of Canada. This is unethical oil as well as dirty oil.
The United States is already importing 1.3 million barrels of tar sands oil every day and refining that for your car. Killing Keystone XL will not stop the tar sands, though it may slow industry plans to triple production by 2025. Another controversial proposed pipeline, the Enbridge Northern Gateway, would carry the same corrosive crude oil to Canada's British Columbia coast for export to China. First Nations are fighting that pipeline with equal vigor as the Keystone XL. This is a big, complex fight, and it will need to be sustained.
You can weigh in on the State Department Draft Supplementary Environmental Impact Statement. Comments are due by midnight on April 22. Also, please send a copy of your comments to President Obama. If he does not hear a loud, steady cry of opposition, he will not have the political backing to deny the permit for Keystone XL. This is your chance to make a difference!
Please send your comments to keystonecomments@state.gov.
For more information on the U.S. government position: U.S. State Department's Keystone XL page.
Click on the links below for more information:
Indian Country Today reports on the response by tribal leaders.
New York Times (3/10/13) editorial against the Keystone XL pipeline.
The easiest route to registering your opposition is signing an online petition.
Read the State Department press release.

Download the Draft Environmental Impact Statement (SEIS) from the State Department
Figures and Statistics from the Alberta Government.

Blog Post Categories: Threatened Sacred Sites