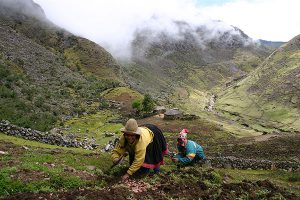 Earlier this month, leaders of Peru's indigenous Q'eros people effectively blocked geneticists from collecting DNA samples from their community as part of National Geographic's ongoing Genographic Project, which has been gathering DNA from people around the world.
Members of the Genographic Project had planned to arrive on May 7 to begin collecting samples from several Q'eros communities, located in an isolated province of the Cusco region. The Q'eros — who are the subject of a segment in Sacred Land Film Project's upcoming film Losing Sacred Ground — are a traditional, shamanic people who self-identify as the "last Inca."
According to a communique from the Asociación para la Naturaleza y el Desarrollo Sostenible (ANDES), a Cusco nonprofit, the U.S.-based project did not consult with local or regional authorities; rather, a local guide hired by the project sent only a one-page letter to the communities announcing the upcoming visit.
The letter, released by ANDES, invited families to come to a "fun" presentation on the study, which would include "a projector and pretty pictures," in an effort to encourage them, young and old alike, to offer their DNA samples. "The benefit," the letter said, "is that the people of Q'eros can know their ancestral roots … You can learn about your origin from centuries and centuries ago."
But Benito Machacca Apaza, president of the Hatun Q'eros community, said in an ANDES press release, "The Q'ero Nation knows that its history, its past, present, and future, is our Inca culture, and we don't need research called genetics to know who we are. We are Incas, always have been and always will be."
Concerns were raised among the community over the project organizers' failure to obtain informed consent and to follow local regulations. A Q'eros delegation brought those concerns to regional officials in Cusco, who agreed, saying the expedition violated a local ordinance on biological diversity that requires notarized evidence of informed prior consent, along with other documents, before collecting DNA. According to ANDES, this marked the first time that a local government in Peru applied an ordinance "in defense of its citizen's genetic integrity."
Project head Spencer Wells told ScienceInsider, "We have cancelled our visit to the Q'eros until we find out exactly what happened."
Yet a larger biodiversity issue looms that threatens the way of life of the Q'eros and other Quechua communities in the region. On April 15 President Alan García signed a decree allowing the import and planting of genetically modified organisms (GMOs) in the country, which could compromise the native species of Peru — in particular, the potato — which sustain these Andean communities and form a core part of their cultural identity.
Alejandro Argumedo of ANDES said in an email message, "Cusco is the center of origin of the potato, with the highest diversity of potato varieties found anywhere in the world. As guardians of the potatoes, Andean communities have, within challenging political contexts that favor international commercial interests, fought to protect their biocultural heritage. These actions have been supported by local governments, such as the Cusco regional government, and have led to five regions producing decrees that prohibit the use of GMOs … All that has been accomplished over the last 10 years of actions against GMOs in order to protect Peru's Peru's high-quality natural, non-GMO crops is now being threatened."
Opponents of the decree, including the farming communities around Cusco, have been mobilizing and converged in Lima last week to protest. Many opponents argue that the country hasn't conducted enough research and development in the field, and they are asking for a 15-year moratorium on GMOs, to give Peru more time to build the research infrastructure needed to fully assess and make the best decisions on the use of GMO crops.
Peru's Congress is expected to discuss just such a moratorium in a new proposed bill. Meanwhile, Peru's Minister of Agriculture Rafael Quevedo recently resigned in the heat of criticism over his support of GMO crops and his position as director of a company that uses them.
Learn more about the Q'eros in our Cordillera Vilcanota sacred site report.