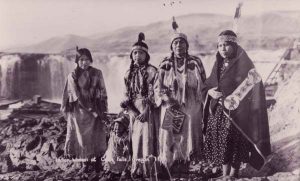 For more than 12,000 years, native people inhabited several villages clustered around the roar of Wyam of N'ch-iwana — Celilo Falls on the Columbia River — the center of a vast salmon-based fishing and trading economy and the nucleus of many sacred sites, petroglyphs and burial grounds.
Celilo Falls was a natural wonder, by volume the largest waterfall in North America and the sixth largest in the world, and it was here that the Creator supplied the tribes with countless millions of salmon and other sustenance.
It was unthinkable that any of this would ever be lost. But in 1957, a dam was built downriver at The Dalles, Oregon, and Celilo Falls was flooded to facilitate barge traffic past the rapids and in an attempt to force the Wyam people to abandon their sacred sites and homes, as had been the fate of every other Indian village along the length of the Columbia.
So strong were the tribes' connections to Celilo, however, that despite the many depredations they suffered, the Wyam people remained at Celilo Village, and have persevered as the oldest continuously inhabited settlement in North America. They await the return of Celilo Falls.