Reflections on the Birth of Four Films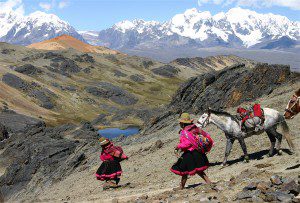 As indigenous leaders from around the world head to the Bay Area this week to celebrate the premiere screenings of Standing on Sacred Ground, the excitement heightens my awareness of both the honor and humbling responsibility of directing this project. Bill McKibben has said, "Some of the finest minds on the planet are featured in this documentary," and I hope you can join me for discussions with Onondaga Chief Oren Lyons, Winnemem Wintu Chief Caleen Sisk, author Barry Lopez, Altaian leader Danil Mamyev, Native Hawaiian activists Emmett Aluli and Davianna McGregor, tar sands activist Mike Mercredi, actresses Tantoo Cardinal and Q'orianka Kilcher and other remarkable activists and indigenous leaders.Discussions will take place after screenings on Thursday, Saturday and Sunday at the Mill Valley Film Festival, and in Berkeley and San Francisco next week. Please check out our new website—StandingOnSacredGround.org—for a complete schedule and ticket details.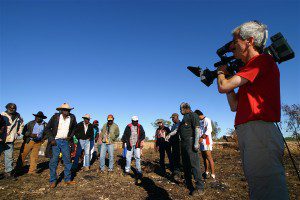 Over the past seven years, I have been privileged to visit and film eight astonishing cultures. Whether I came back awed by a Winnemem Wintu ceremony on the McCloud River in California or shocked by the open pit wounds of the tar sands in Alberta, our fantastic writer/editor teams of Jessica Abbe/Quinn Costello and Jennifer Huang/Marta Wohl tackled the sifting and sorting, the weighing and discarding, the crafting and polishing of four unique but interconnected films with skill and patience.
From the Altai Republic of Russia to the Northern Territory of Australia, my dear friend and cameraman extraordinaire Will Parrinello endured frostbite and flat tires, mid-summer blizzards and crocodile-infested waters to go the extra mile and get the story. Master cinematographer Andy Black and sound recordist Dave Wendlinger had my back when we were detained by gun-toting policemen in Papua New Guinea for filming in a mine site, and also when we were challenged by Native Hawaiians on Kaho`olawe to learn Hawaiian, make offerings to Lono, and experience the four-day Makahiki ceremony with our cameras and microphones stashed away in our tents. Vicente Franco delighted our Q'eros hosts in Peru every time he proclaimed from his horse, "Let's get organized!" It has been a beautiful ride and a great blessing.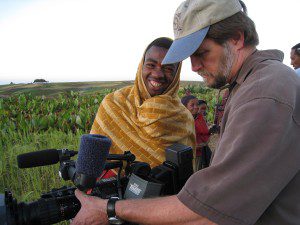 As we made pilgrimage to Uch Enmek Mountain in Altai, returned over and over to Panther Meadows on Mt. Shasta, and struggled to capture the feeling and power of sacred places, I worried: would the controversial stories we were taking years to film be timely when the films came out? Amazingly, the answer is yes. From the Keystone XL pipeline to the U.S. government's crazy plan to raise the height of Shasta Dam, from the disappearing glaciers in the Andes of Peru and Gazprom's pipeline across the sacred Ukok Plateau in Russia to the Chinese-government-owned mining company dumping tailings into the sea in Papua New Guinea, the hot stories are boiling over.
The toughest shoot by far was the tar sands. Plumes of toxic carbon clouds going up, oily waste ponds seeping poisons down into the Athabasca River, moose and eagle and bear grieving for their shrinking, shattered boreal forest. I'd never been to a petro-state before, and the deformed fish and heart-breaking cancer cases in the native community of Fort Chipewyan took a toll on every member of our crew. Each of our spouses saw the sadness we carried home, and it lingered for months after we returned from Alberta.
And as much as we may have intended to help the indigenous communities that put their faith and trust in us, there have been unintended consequences. One memorable shoot involved a long trek to a sacred forest on Milo Mountain in Ethiopia. When a still camera was stolen from our baggage during the shoot, our host Makko Wareo, "the father of Milo Mountain," insisted that he had to confront the local village leader whose wife had started bragging about her husband's new camera. Everyone in the small village knew (but we didn't) as we said our good-byes and left. It turned out that the government leader was a Christian fundamentalist with a grudge against the traditional spiritual leader we were filming. Shortly after we left, Makko Wareo's son was badly beaten by a band of thugs and ended up in the hospital. We learned about it weeks later. Though Wareo's son has healed, the incident reminds me of the delicacy of the situations in every community we enter briefly and then leave.
All of this strengthens my resolve to honor the commitments we have made to each of the eight communities in our new film series. We are well on our way to forming an international Sacred Land Alliance to support local struggles and encourage action on national and international levels.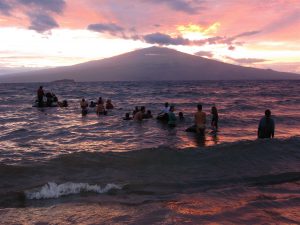 We have begun to build and support a Council of Guardians of sacred sites from around the world, and have worked together to pass international resolutions calling for protection of sacred natural sites. Our friends and colleagues are publishing books on sacred places, fighting dams, mines and pipelines, challenging insensitive eco-tourism, telling stories of indigenous communities affected by climate change. We hope Standing on Sacred Ground will make a powerul contribution to these important struggles. We still have teacher's guides to publish, DVDs and foreign language versions of the films to produce, screenings to plan and promote. Hopefully, we will get a broadcast slot on PBS in the coming months. There is still so much to do!
Please join us in the coming days to celebrate the completion of Standing on Sacred Ground after seven years of work by a dedicated team of talented filmmakers who have persevered only because of the invaluable friendship and partnership of eight inspiring and enduring cultures.
We encourage your activism to help protect sacred places from Mt. Shasta to Lake Athabasca, and we challenge you to take a deep breath, reconnect with the mystery of your own homeland and embrace the loved ones who surround you.
In addition to the colleagues mentioned above, my heartfelt thanks go to Ken Wilson, Bob Friede, Barbara and Tom Sargent, Jaune Evans, Patty Quillin, Reed Hastings, Polly and Bill McLeod, Cordy Fergus, Erin Lee, Vicki Engel, Marlo McKenzie, Todd Miro, Audrey Jardin, Anna Heath, Jennifer Castner, Gleb Raygorodetsky, Peter Coyote, Winona LaDuke, Susan Alexander, Pat Koren, Dianne Brennan, Allison Torres, Indra Mungal, Callie Shanafelt, Leroy Clark, John Knox, Kevin Connelley, Dave Phillips, John Antonelli, Chagat Almashev, Maria Amanchina, Luana Busby-Neff, Matt Yamashita, Donne Dawson, Kaliko Baker, Mike Preston, Kayla Carpenter, Rick Wilson, R.T., Nathaniel Wolde, Rosa Koian, Fredy Flores Machacca, Charles Roche, Cara Mertes, Don Weeden, Hadley Grousbeck, Susan O'Connor, Jim Crown, Susan Newman, George Appell, Jenny Abbe, and to friends and family too numerous to name, but in particular Miles and Fiona McLeod, and my ever-patient and profoundly creative partner Jessica Abbe.
Blog Post Categories: Threatened Sacred Sites