Sacred Land Memes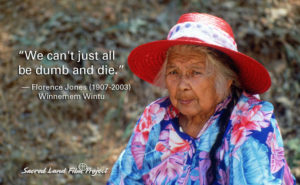 How do we spread the word and create a buzz amidst a flood of social media content?
We know that our four-hour series of film stories is pushing everyone's attention span envelope. So, leading up to our PBS broadcasts we have created memes to post on Facebook and Twitter, figuring that people love images—and knowing that the indigenous activists and big thinkers in Standing on Sacred Ground say truly amazing things.
Rather than the random vertical scroll of Facebook with all the surrounding clutter, it's nice to tab through our memes horizontally, with some time to think and feel, and hey, it's like a film!
All images are copyrighted and may not be used without written permission. Thank you.
Blog Post Categories: Threatened Sacred Sites