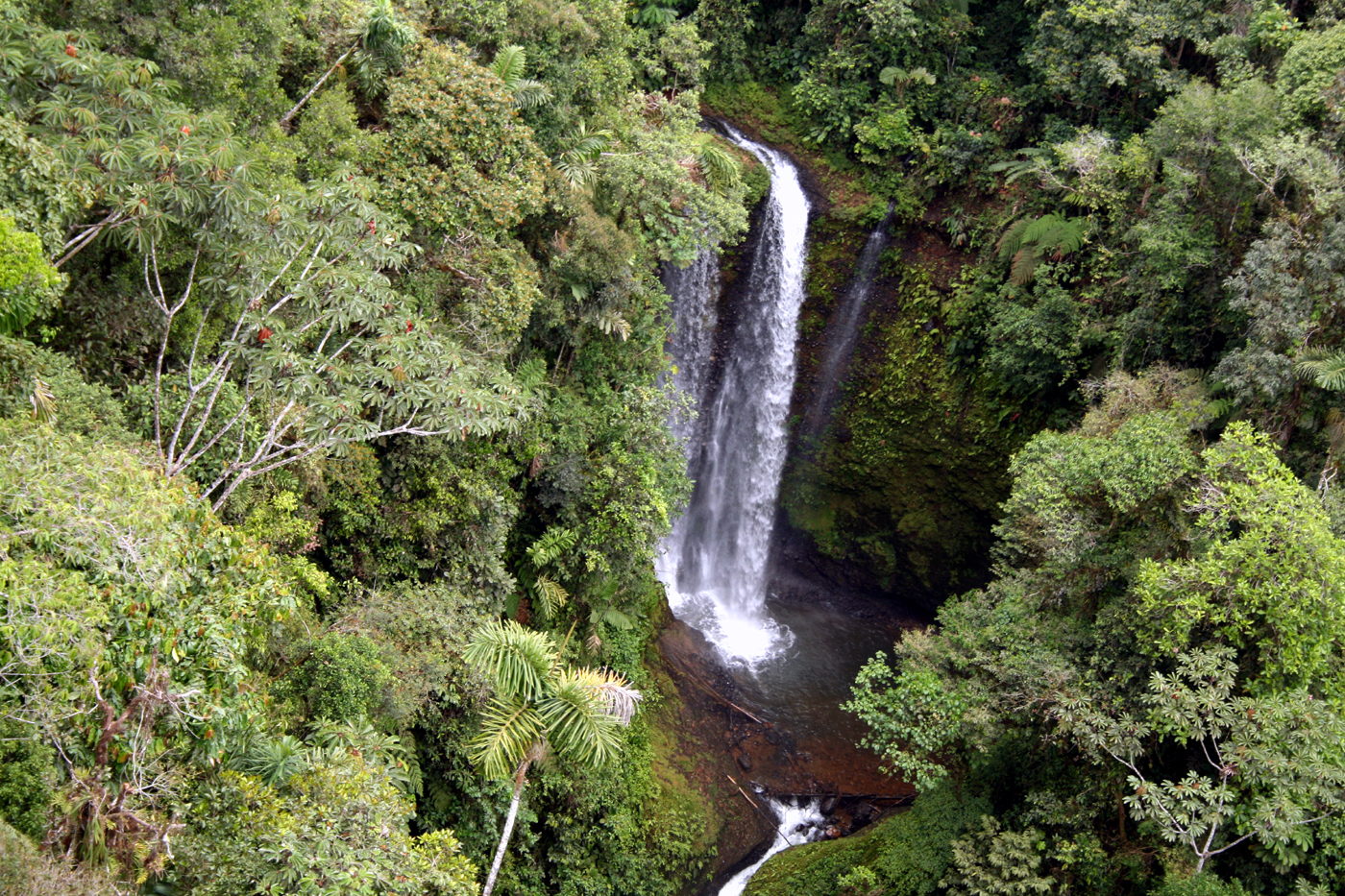 Status

Endangered

Country

Ecuador

Report By

Kimberly Hernandez


Posted

July 11, 2019

Imagine a jungle filled with miles and miles of green, dense, entangled growth, teeming with life, broken only by gentle rivers winding through the land—a "living forest." Now think of this forest hewn down, dug up and drilled, with rivers and soils tainted by black oil (The Last Guardians). Imagine the silence of a place abandoned by its wildlife. This is the startling reality of oil extraction in the Ecuadorian Amazon. While oil may be profitable for companies and governments, it brings dire consequences for the health of the forest and its people (The Last Guardians). The Sarayaku living forest is an incredibly rich and biodiverse place, with one adjacent region, Yasuni National Park, being described by primatologist Anthony Di Fiore as "the most diverse area in South America, and possibly the world" (Revkin, 2010). A recent study published in the journal PLoS One identified Yasuni National Park as having "world richness records for amphibians, reptiles, bats, and trees" (Bass, et al, 2010). As oil extraction continues, more and more of this biodiversity is threatened and lost. The last line of defense between this living forest and the oil companies are the indigenous peoples who continue to fight to preserve the forest from the ravages of resource extraction.
The Land and Its People
In Sarayaku, the Kichwa indigenous community, 1,200 people strong, are the defenders of Kawsak Sacha—the "living forest" (Goodman, Spring 2015). Sarayaku is also known as Pueblo de Medio Dia, which translates as "People of the Zenith." This comes from a prophecy that foretold that many indigenous people would give up in the face of threats, but like the sun at noon, the People of Sarayaku would remain strong and prevail. Located in Ecuador, this Kichwa community faced a big oil company and won. Though many other tribes gave in to the company's offers, the narrative of Kichwa resilience and resistance directly connects cultural worldview, spirituality and history with direct action, and legitimizes the Kichwa within the Ecuadorian environmental story. This case has been a remarkable success story "because it is a binding sentence for the Ecuadorian State and sets a mandatory precedent for the countries in the Organization of American States" (Cultural Survival Quarterly Magazine, 2012). The most prominent outcome from this fight was the establishment of free, prior, and informed consent (FPIC). This means that the government can no longer create dams or mine and deforest, etc., without the consent of the indigenous community.
When outsiders go to Sarayaku, they see trees, rivers, mountains, animals—"the forest"—but the Kichwa people do not share this view, instead they see life. It is important to recognize that this area is not just land, but there is life that connects the people to the spiritual elements that surround them. The forest gives them life, so in return they protect it as if it was their own. When oil companies or other forms of encroachment infiltrate onto their land, the symptoms are instantly recognizable: they can no longer drink water because the river is contaminated, they cannot find resources because of the danger of explosions, they can no longer eat because their food is dying. So when the People of Kichwa fight, they fight for their lives and the survival of their cultural (Sarayaku: in defense of territory, n.d.).
Though this fight lasted well over a decade, for the Kichwa this was not just a fight for the present but also for the future. Mario Santi, former president of Sarayaku, expressed this sentiment clearly: "Our fathers told us that for future generations not to suffer, we needed to struggle for our territory and our liberty" (Goodman, Spring 2015). The community was fighting for both their livelihoods and the livelihoods of future generations. Of the 1,200 Sirayaku people, many rely on the forest to provide their needs through hunting, fishing, and subsistence agriculture (Cúneo and Gascó, 2011).
"The families and communities that have settled within the territory of Sarayaku live from subsistence agriculture, hunting and gathering, and fishing, all of which they practice within their territory, following their ancestral traditions and customs. Some 90% of their basic food needs are met with products gathered, hunted, fished or grown on their own territory, while the remaining 10% of their food needs are products brought in from places outside Sarayaku territory." (Kichwa Indigenous People of Sarayaku v. Ecuador, 2010)
Biodiversity Protection
The indigenous communities in Sarayaku rely on the land and resources from their surrounding areas, which is why it is important to maintain and conserve the biodiversity of the land they live on. The Kichwa people are aware there will always be another generation after the present one, so they are very conscious of how they interact with the land. "Activities are carried out with respect for sacred locations, which involves identifying suitable areas, limiting the number of animals and birds that are hunted, and carrying out only one mass fishing exercise each year, all in order to allow the fauna's re-population." (Sarayaku: in defense of territory, n.d.) In this sense the Kichwa people use sustainable ways of living so that they can help their future generations enjoy the same resources as they do now, for subsistence and also for ritual purposes. For example, different animal parts, such as fur or feathers, from animals that were hunted during Uyantza Raymi celebrations are worn on the final day by the leader and thrown into the Bobonaza River to return them to Mother Nature (Gonzalez, 2018).
Oil companies pose a threat to the livelihood of the Kichwa community, through oil spills, road-building, river salinization, contamination of water reserves, loss of biodiversity, air contamination due to burning gas, and deforestation.
Some say the Kichwa community would benefit from Western advancements—cars, cellular phones, medicine, religion—but in reality, Kichwa leaders assert they do not need technology when inhabiting the living forest. Sarauaku leader Patricia Gualinga says "We do not know of any place where technology has been realized and has not impacted the environment. There is a reason why these minerals, this oil, are hidden in the most sacred forests, in places where indigenous people are defending them."
Texaco's massive oil spill in 1964 was an early warning sign of the endangered environment. This was one of the worst oil-related environmental disasters in history. Instead of stopping oil extraction, the Ecuadorian government decided to open thousands of acres for exploration and sale (Goodman, Spring 2015). To the indigenous people of Sarayaku, the land they inhabit is not a place to take, own and destroy. Their culture and respect for the forest discourages them from consenting to exploitation of their land. This resilience has helped them continue their fight for years and in the end it payed off.
The Sarayaku v. Ecuador case was a 20-year struggle to defend their land from the infringement of oil companies. Though the case ruled in favor of Sarayaku, there are still some struggles between the people and the State. The State is required to pay the Kichwa $90,000 in physical damages and $1.25 million in moral damages. The State must also include and consult the Kichwa community about anything that could affect or take place on their territory. Along with those two agreements, the State must also remove all the explosives from the territory (Kichwa Indigenous People of Sarayaku v. Ecuador, 2010). Though these were the final agreements, they have not been implemented. There is still more than a ton of explosives on the territory and the community has not received payment for either physical or moral damages. The fight also continues with Ecuador's pending decision to auction off more oil blocks (Amazon Watch, n.d.).
In July of 2018, the Kichwa People of Sarayaku introduced a visionary proposal named after their living forest, Kawsak Sacha. This "proposes a new international category for the permanent protection of native land, free of natural resource extraction and based upon the interconnected relationship indigenous peoples have with their forests, water and spirits" (Paz y Miño, 2018). The Kawsak Sacha proposal was introduced at a conference intended to establish that the laws set forth by both Ecuador and international organizations for consultation have deprived the the Kichwa People of their basic rights to sovereignty over their own lands. The Kichwa People are aware that their land is not permanently protected but they still maintain their resilience. Their fight against the extraction of oil has inadvertently promoted biodiversity. In other words, the State and other companies are willing to implant explosives and destroy parts of the forest for financial gain, while the Kichwa People refuse, thereby maintaining biodiversity. If approved, this community would not only be protecting their home, but in the face of climate change it would be protecting all people by keeping 100 million barrels of oil in the ground. If the Kawsak Sacha is recognized, this would provide the means for indigenous people to fully maintain their land, and in doing so prevent the forest from expelling more carbon into the environment (Paz y Miño, 2018).
A final note from Amazon Watch: "The Amazon Rainforest ecosystems are vital lungs of the Earth. Thus, the justice and well-being for the people of Sarayaku is inseparably tied to the fate of all people worldwide" (LAKE, 2018).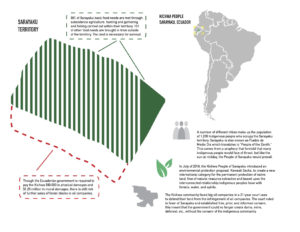 Sources
Amazon Watch. (n.d.). Sarayaku: People of the Zenith.
Bass, M. S., Finer, M., Jenkins, C. N., Kreft, H., Cisneros-Heredia, D. F., McCracken, S. F., Pitman, N. C. A., English, P. H., Swing, K., Villa, G., Di Fiore, A., Voigt, C. C., Kunz, T. H. (January 2010). "Global Conservation Significance of Ecuador's Yasuní National Park." PLoS ONE.
Cultural Survival Quarterly Magazine. (2012, September). CONFIRMING RIGHTS: INTER-AMERICAN COURT RULING MARKS KEY VICTORY FOR SARAYAKU PEOPLE IN ECUADOR.
Cúneo, M. and Gascó, E. (August 2011). "Sarayaku: the guardians of the jungle." Crónicas del estallido.
Gonzalez, D. (April 2018). "At Home in the Jungle, Everything Is 'Alive and Has a Spirit.'" The New York Times.
Goodman, D. (February 2015). "Deep in the Amazon, a Tiny Tribe is Beating Big Oil," in Together, With Earth. YES! Magazine.
Kichwa Indigenous People of Sarayaku v. Ecuador, 12.465 (Inter-American Court of Human Rights April 26, 2010).
LAKE, O. O. (2018, November 18). The Voices of Amazon Women and a Visionary Declaration to Protect Indigenous Lands.
Paz y Miño, P. (2018, July 19). Visionary "Living Forest" Proposal to Be Launched by Kichwa People of Sarayaku in Ecuador.
Revkin, A. (January 2010). "A durable yet vulnerable Eden in Amazonia." Dot Earth, New York Times Blog.
Sarayaku: in defense of territory. (n.d.).
Continue Exploring Sacred Sites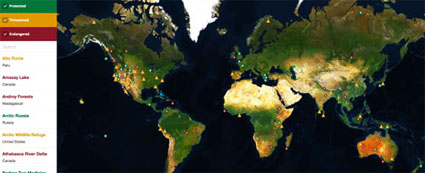 Explore a world of sacred lands and discover more than 100 site reports using our interactive map.