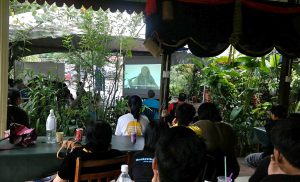 Awakening one night in the middle of editing the Standing on Sacred Ground series, I tossed and turned and worried about the challenges of telling eight, long, complex stories in a society with an ever-shrinking attention span. I asked myself, "Who is going to watch four hours of documentary film?" The answer came within seconds: "Indigenous people, that's who." So, when my friend Cynthia Ong, Executive Director of LEAP—Land/Empowerment/Animals/People—offered to take a set of four DVDs to Malaysia to screen the films for leaders from Malaysia, Indonesia and Borneo, I was more than happy to deliver four DVDs.
I just got this email from Cynthia, along with some photos:
Hi Toby, Sharing pics of the first screening on May 27 @ the opening of Harvest Festival celebrations, at the heart of indigenous leadership in Sabah. About 50 leaders and community organizers, including elders and shamans. There was deep appreciation and emotion as we moved through all eight stories (in one sitting, with short pee breaks between episodes!). There will be more screenings tomorrow and the day after at another location – CREATE: Centre of Renewable and Appropriate Technology – hosted by the indigenous renewable energy movement with support from JOAS (Jaringan Orang Asal Se-Malaysia or the Indigenous Peoples Network of Malaysia). This is also part of the Harvest Festival celebration. Thank you for your beautiful and powerful story-telling, already deeply appreciated and felt here, Cynthia
A few days later we received an e-mail from our friend, Rosa Koian, at Bismark Ramu Group in Papua New Guinea:
Hi Toby, Can't wait to share the experience of screening Profit and Loss this afternoon. People were emotional, screaming and shouting—and a lot of tears. The Al Jazeera section was the highlight as people screamed angrily at our former prime minister. Talked with some people in the group about a film festival in PNG. Reps from France are interested as well. UNESCO people were so happy (Smile). Anyway I am so over the moon this evening. Best regards, Rosa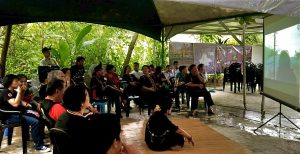 Hearing this news from PNG and seeing Danil Mamyev's image up on a screen in Malaysia, a wintry Altaian pilgrimage shared with rainforest dwellers fighting dams and palm oil plantations, was literally a dream come true. As we await the judgement of PBS, and a decision about whether, when and how the series will be broadcast, it is deeply satisfying to know that, like my kids, the films now have a life of their own.