The Ancestors Call from the Berkeley Shellmound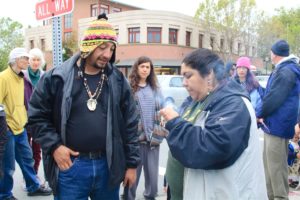 The first Ohlone skeleton disturbed by Berkeley construction workers on March 29 was alarming. But of course the work was allowed to continue because few pay attention and money talks. The second ancestral remains unearthed on April 27 are now too much to ignore. The Ancestors are calling.
Chochenyo Ohlone leader Corrina Gould says, simply, "Enough. Stop. The permit should be revoked immediately and the city of Berkeley should honor the commitment made in January to adopt the United Nations Declaration on the Rights of Indigenous People, which means free, prior and informed consent regarding our traditional village sites."
I cop to being one of those Berkeley environmentalists who travels all over trying to help save the planet, but when it comes to "act locally" I've come up short, at least up until now. Often, following a film screening — wherein our stories depict valiant attempts by indigenous people to protect their sacred places — I am asked by audience members: "What can I do?" After many different attempts to answer that question, I feel the best and most important answer I've come up with is: "Work with local indigenous people to restore a sacred place." Well, right now we have that opportunity in Berkeley, and we should seize it. Much work lies ahead: Gather a movement. Stop a mega-development. Protect a sacred place. Honor the history. Follow the leadership and spiritual instruction of the native people of this place.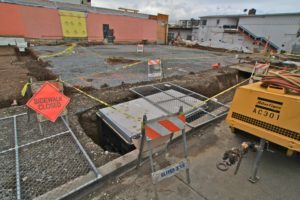 I was fortunate last night to have dinner with a group of concerned folks, including Ohlone leaders Corrina Gould and Vincent Medina. My notes from the discussion follow, as we allowed ourselves to dream, to imagine, to articulate a vision for the land surrounding the corner of 4th Street and Hearst:
An open space sanctuary restored to natural habitat with Strawberry Creek flowing through. A place available to Ohlone people to remember and honor the ancestors, to gather, sing, leach acorns, learn the language. A memorial park where Berkeley residents can reconnect with quiet, simple, eternal truths. A place for East Bay third- and fourth-graders learning California history to go for field trips during which docent-led walks bring the 12,500 years of native history alive. Having one place that turns the tide and pattern of history. Knowing that for once things were done differently.
CALL TO ACTION: If you would like to be on an email list to receive information about the upcoming campaign to save the West Berkeley Shellmound site, send an email to slfp@sacredland.org, subject line "Berkeley Ohlone Shellmound" and we'll be in touch. Thanks.
You should also get on Corrina Gould's email list via shellmoundwalk@yahoo.com and check out her Indians Organizing For Change website.
For details check out this Berkeleyside piece by Frances Dinkelspiel: "Second West Berkeley human remains discovery prompts call to re-examine shellmound boundaries" and The Berkeley Voice front page article by Tom Lochner: "City criticized on work at sacred site."