U.S. Government Acts to Protect Sacred Sites
After joining a 500-year-long struggle, inspired every step of the way by the deep commitment of so many determined allies, it's nice to watch the wheel of history turn — ever so slowly.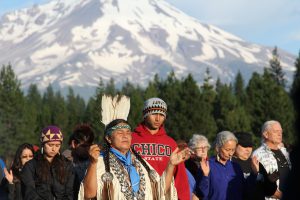 For the last 15 years, the Sacred Land Film Project has worked to improve U.S. government recognition and protection of Native American sacred places. In December 2012, this long-term struggle moved a giant step forward, when four Cabinet secretaries signed a Memorandum of Understanding to collaborate on improving sacred site policies over the next five years. The Departments of Defense, Interior, Agriculture and Energy agreed to consult with tribes, create training programs for federal employees, launch a new website and establish management practices regarding sacred sites on federal land.
In a statement, Tom Vilsack, who directs the U.S. Forest Service, said: "The President is insistent that these sacred sites be protected and preserved: treated with dignity and respect. That is also my commitment as Secretary of the U.S. Department of Agriculture. I know my fellow Secretaries share in this commitment. We understand the importance of these sites and will do our best to make sure they are protected and respected."
In March 2002, with the Pentagon still damaged from the 9-11 jetliner crash, I made my way inside the damaged fortress with Hopi elder Vernon Masayesva and Winnemem Chief Caleen Sisk, to screen In the Light of Reverence for Defense Department officials. We had learned that military bases around the U.S. contain dozens of Native American sacred sites, and native people who were working inside the Pentagon wanted to educate the top brass about a little discussed subject. Uniformed officers were scurrying around the halls with huge briefing notebooks as they continued bombing Afghanistan, and we showed the film to a good-sized audience, with lots of interesting questions. On the walls of the room there were military aircraft of every vintage painted in living color…sacred sites in the crosshairs.
To see Leon Panetta's signature on this document is amazing. Check it out.

Blog Post Categories: Threatened Sacred Sites, Winnemem Wintu