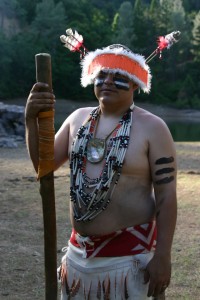 Please join us for the U.S. premiere of Pilgrims and Tourists, on Saturday, September 14 at Redding's beautiful Cascade Theatre, 1733 Market Street in downtown Redding, California.
Russian shamans and a northern California tribe both confront massive government projects—and find common ground. This film is Episode One of the new four-part documentary series Standing on Sacred Ground, which chronicles the struggles of eight native communities around the world facing threats to lands of spiritual, cultural, and environmental significance. The first hour-long episode tells the stories of indigenous people of the Altai Republic of Russia and the Winnemem Wintu Tribe of northern California. Altaians are fighting a proposed natural gas pipeline that threatens their sacred Ukok Plateau while the Winnemem oppose the raising of Shasta Dam, which would flood traditional dance grounds, ancient villages and burials, and numerous sacred sites.
In the film, authors Winona LaDuke (Anishinaabe) and Barry Lopez, Chief Oren Lyons (Onondaga) and philosopher Satish Kumar provide insights on the rapidly growing global indigenous movement for human rights and environmental protection. The film is narrated by Graham Greene (Oneida) with storyteller Tantoo Cardinal (Métis).
Winnemem Wintu Chief Caleen Sisk will attend the Redding screening. Producer/Director Christopher (Toby) McLeod, who circled the globe for five years filming the eight stories that comprise the four-part series, will be on hand to answer questions, along with Co-Producer Jessica Abbe, McLeod's wife of 20 years, who grew up in Redding. There will be a reception to celebrate this long-awaited premiere at 6pm in the Cascade Theatre lobby. The film starts at 7:30pm. Please join us!
Tickets are $35 for the reception and screening and $12 for the film. Tickets for this event are available at the Cascade Theatre web page.
Special Note: For our many friends and supporters who have been asking when we will premiere the entire four-part series, the answer will be coming very soon! We have been invited to show all four films from the Standing on Sacred Ground series as part of the Mill Valley Film Festival from October 9-13 (locations and times tbd). The following week we are planning screenings and a reception for Tuesday, October 15 at the David Brower Center in Berkeley, where we are making the films. This day will feature screenings of all four episodes during the afternoon and a celebratory reception for friends, donors, allies and SLFP crew, starting at 6pm, with two film screenings starting at 7pm. Finally, we have booked the Roxie Theater in San Francisco for two nights, Wednesday, October 16 and Thursday, October 17 for evening shows that will start at 7pm. We will also screen one of the four episodes at Bioneers on Saturday, October 19 at 9pm.
Winnemem Chief Caleen Sisk is fighting the proposal to raise the height of Shasta Dam, and she will be present at the October screenings, along with Danil Mamyev, a nature park founder from the Altai Republic of Russia. Danil is a visionary leader who is working to preserve traditional cultural knowledge and land long held sacred by Altaians. In addition, we hope to have Mike Mercredi, a tar sands frontline activist from Fort Chepewyan, Alberta, Canada. We have also invited Onondoga Chief Oren Lyons to attend and speak at the October screenings.
Tickets will go on sale soon here and through our partners, Mill Valley Film Festival, San Francisco Green Film Festival, Earth Island Institute and Glogal Greengrants. You can purchase tickets for our September 14 premiere in Redding at the Cascade Theatre web page. Thanks to everyone for your support!