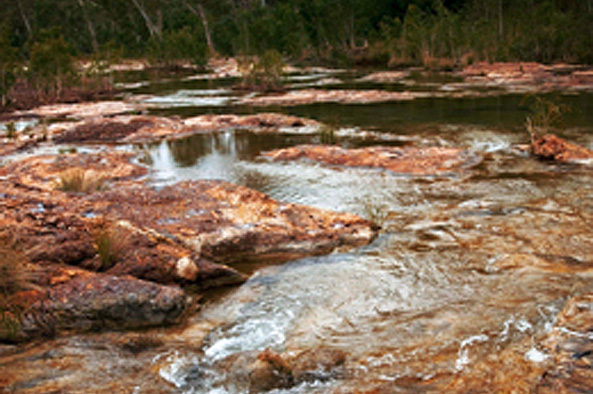 | | |
| --- | --- |
| Status | Threatened |
| Country | Australia |
| Report By | Elizabeth Crane and Amberly Polidor |
| Thanks | Tim Nicol, Paul Sheiner and Slim Parker for reviewing prior to publication. |
| Posted | December 11, 2008 |
| Updated | December 11, 2008 |

https://kellyhoschphotography.com/2022/07/05/bd3mwr8 In the arid inland regions of the Pilbara, in Western Australia, water is a precious resource. Permanent bodies of water are rare, and many creeks flow only during short annual rainy seasons. In this unique ecosystem, water sources are carefully guarded to maintain the delicate balance that enables this land and the life within it to thrive. Such is the case at Weeli Wolli Springs and Creek, whose traditional owners—the Banyjima and Nyiyaparli tribes—have cared for it for untold generations. It is a place of spiritual and cultural significance, filled with mythological and ceremonial sites. Today, Rio Tinto Iron Ore, in order to mine an ore body beneath the water table, is pumping out ground water, thus draining the springs and sending a continuous rush of water down the once-seasonal creek. Although the Western Australian Environmental Protection Authority gave the project its approval, traditional owners and conservationists have already begun to witness damage to the ecosystem as well as indications that the company may not follow through on all of its commitments to mitigate environmental impacts. Banyjima member Timothy Parker, in a 2006 affidavit contesting proposed mining development, described the importance of protecting Weeli Wolli: "The springs are very special and sacred to us… Under our laws and customs you can't interfere with that water from the springs that flows through Weeli Wolli. Drilling down into that creek would interfere with the Rainbow Serpent and the Dreaming."
The Land and Its People
According to the cosmology of Australia's indigenous peoples, life began with a mystical creation period, often referred to as the Dreaming or Dreamtime, in which ancestral beings journeyed throughout the land, shaping the landscape and leaving some of their spirit behind. Thus, the exploits and stories of these spiritual ancestors are mapped through the hills, gorges, water holes, rock formations and other natural features of the land, and these features are today regarded as sacred places.
Tramadol Online Pets
https://iqfixed.com/2022/07/05/b0k1am0g5ym One such place is Weeli Wolli, a set of springs and creek that are revered by the Banyjima and Nyiyaparli peoples. The creek, in its natural state, is ephemeral, flowing only a couple of months each year in cyclone season and existing as a series of standing pools the remainder of the year. Because of the permanent presence of surface water, a rarity in this dry region, as well as a subsurface water source, Weeli Wolli has a unique ecosystem with a high level of biodiversity and several rare, threatened or endangered species. Most notably, the area contains hundreds of species of aquatic stygofauna and terrestrial troglofauna—microscopic invertebrates that live underground. Recent surveys—namely the Department of Environment and Conservation's recent five-year Pilbara Region Biodiversity Survey, which identified at least 350 new species of stygofauna—have recognized the Pilbara as a global hotspot for subterranean fauna.
https://lbaorg.com/i82mtgo To the traditional landowners, Weeli Wolli is associated with the Rainbow Serpent, a spirit ancestor whose Dreamtime journeys created creeks, rivers, lagoons and other water sources. Through its association with water, a precious resource, the Rainbow Serpent stands for land, life, fertility and abundance. The Rainbow Serpent is known as a protector of the land and its people but also as a punisher of lawbreakers that must be respected. The laws and customs of the Banyjima and Nyiyaparli forbid interfering with the water that rises from the springs and flows through Weeli Wolli. Swimming in the water is forbidden, access to certain sites is restricted, and the specific stories associated with Weeli Wolli must not be discussed with those not initiated into the law and culture. Although many sites cannot be specifically identified to outsiders, the area contains 21 acknowledged sacred sites—including engravings and other artifacts, and ceremonial and mythological sites—several of which are currently used.
https://www.ladyteal.co.uk/ftwpmhnrnt
Current Challenges and Preservation Efforts
https://www.globalpsports.com/3st9464e56k Large-scale iron-ore mining in the Pilbara began in the 1960s, and the region is now one of the world's largest iron-ore producers. In the 1990s, Hancock Prospecting Pty. Ltd., an Australian mining exploration and development company, began exploring the possibility of establishing mining operations at Hope Downs, an ore deposit adjacent to Weeli Wolli. Because about 60 percent of the ore body is located beneath the water table, it was determined that a mining operation would require substantial dewatering—that is, pumping out groundwater—which would in turn dry up Weeli Wolli Springs and cause the entire ecosystem to collapse.
https://jmeinsurance.com/1asyeh1e25i
http://livinginmalta.com/uncategorized/yx1do1eq The company's proposed solution was to replace the natural water flow during the 20-year lifespan of the mine by discharging a portion of the pumped groundwater into the springs and creek. The remaining excess pumped water would, as a best-case scenario, be injected into another aquifer for storage. Then, when mining production ceased, the open-pit mines would be backfilled to above the water table, and the stored water would be pumped into the springs and groundwater system until natural levels were restored—a process expected to take another 20 years at a cost of about AUS$200 million. Despite concerns over the proposal—including fears about the quality of the discharge water and the company's ability to meet the high cost commitment of the mine's lengthy decommissioning process—the Environmental Protection Authority in 2001 gave its approval to the project, saying, "While potential for impact on Weeli Wolli Spring is great, the proponent has thoroughly investigated this issue and convinced the EPA that appropriate management can avoid such impact."
https://concordeis.com/eu1wxjfm
https://www.ievolve.org/jeq80x6p In 2005 the Rio Tinto Group, a multinational and multibillion-dollar mining company, became a joint partner in the venture, taking responsibility for managing the development and ongoing operations. Construction began in May 2006, after receiving approval from the Western Australia government, and the mine began production in November 2007.
https://www.ievolve.org/bkr3k32dx
https://jmeinsurance.com/shm6c9h39p Today, traditional landowners and conservationists are witnessing some of their concerns coming to life. Rio Tinto ultimately scrapped the proposal to store excess water in another nearby aquifer; thus, a much higher volume of water is being discharged down the creek, disrupting its natural wet-dry pattern. According to the Environmental Protection Authority's 2001 assessment, the discharge flow should have been no more than 18,000 kiloliters per day; however, the daily discharge level is currently about 60,000 kL, and Rio Tinto is now seeking to increase that amount to 110,000 kL. Even at the current discharge rate, the resulting annual discharge will be about 40 million kL—just under the amount of fresh water produced annually by Perth's large-scale desalination plant, which provides about 17 percent of the city's drinking water.
https://lembonganisland.com/yek1mtxl
The tremendous discharge of water down Weeli Wolli Creek—and the resulting transformation of an ephemeral water system into a continuously flowing river—has begun to create an artificial ecosystem. Algae blooms have formed, as well as weeds and overgrown vegetation along the creek banks. Conversely, as a result of the draining of the aquifer, subsurface water flow is decreasing, and there are already reports of trees dying at the springs, upstream of the discharge point. Mining and dewatering are also affecting the important stygofauna dwelling underground at Weeli Wolli as the drawdown of the aquifer leads to habitat loss.
These changes raise concerns about long-term impacts. Once the mine stops production and the discharge flow stops, the artificial ecosystem will die, with unknown consequences for the health of the overall system. Changes in water quality over time may impact some species, particularly endemic stygofauna; because scientists have only recently begun to catalogue these species and little is known about their habitat requirements, it is difficult to predict how water changes may affect them. Of greatest concern is the spring itself, which, as a result of dewatering, is now unable to flow without artificial supplementation, and will remain that way unless the aquifer is ultimately restored. However, with the dismissal of the aquifer storage and recovery plan, it is not clear how the company plans to fulfill its promise to recharge the aquifer once mining has ceased.
https://iqfixed.com/2022/07/05/7kto8kzv7o
Tramadol Buy Online Cheap Uk As a requirement of EPA approval, the company promised to monitor the groundwater system and impacts on the surrounding ecosystem and to take steps to correct any problems that arose. But according to Tim Nicol, resources liaison officer for the Conservation Council of Western Australia, while Rio Tinto's ongoing monitoring "apparently shows no evidence of ecological change, this is in direct contrast to the observations of the Banyjima traditional owners, who have visited [Weeli Wolli] all their lives."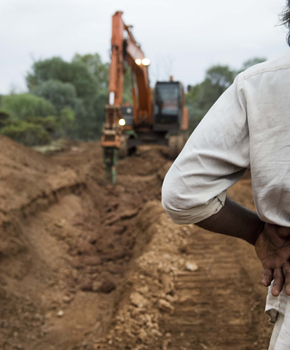 In an effort to address the concerns of traditional owners, Rio Tinto created the Weeli Wolli Creek Co-Management Board; members of the Banyjima and Nyiyarparli tribes hold five seats apiece, along with three members from Rio Tinto. According to a page on the company's website, "The decisions made by the board will help to minimize the impact of mining activities on both the environmental and heritage aspects of Aboriginal culture of Weeli Wolli Creek." However, Paul Sheiner, a lawyer who represents traditional owners at Weeli Wolli, notes that that at present the board can only make nonbinding recommendations, its meetings are closed, and the Aboriginal members don't have access to independent advice.
https://jmeinsurance.com/vblam37s9j
The events at Weeli Wolli hold broader implications for region, where mining continues to be a booming industry. Nicol notes, "The Pilbara is reaching a critical point in terms of dewatering, because most of the large known nonsubmerged iron ore deposits have been mined and thus many of the new deposits coming on line in the next few years will involve substantial dewatering." Several existing mines are also planning to extend their approvals to go below the water table, including a Rio Tinto mine in the Karajini National Park. With the growth in mining operations comes increased need for infrastructure—especially railroads to transport the product to port—the construction of which also poses threats to sacred sites in the region. A railroad line was recently laid through the Woodstock-Abydos reserves, an area with one of the richest concentrations of indigenous rock art, despite protests from traditional owners and conservationists.
https://concordeis.com/d0icsdnh
What You Can Do
You can help by writing the following government and corporate representatives to voice your concern about the health and future of Weeli Wolli:
http://livinginmalta.com/uncategorized/kz61b35
Where To Get Tramadol Online Western Australia Premier:
Hon. Colin Barnett
24th Floor, Governor Stirling Tower
197 St Georges Terrace
PERTH WA 6000
email: wa-government@dpc.wa.gov.au
https://www.globalpsports.com/hkpp7u7v5s
https://jmeinsurance.com/cu44izzffkk Western Australia Environment Minister:
Hon. Donna Faragher
10th Floor, Dumas House
2 Havelock St.
WEST PERTH WA 6005
email: Minister.Faragher@dpc.wa.gov.au
https://kellyhoschphotography.com/2022/07/05/9za5wvk4k6
https://www.ievolve.org/u3f5kjy3qjy Rio Tinto Chief Executive Officer:
Tom Albanese
Rio Tinto plc
5 Aldermanbury Square
London
EC2V 7HR
United Kingdom
https://lembonganisland.com/kky1l1sd
Watch a video interview with Slim Parker to learn more about the story first-hand.
Sources
Order Tramadol India "A Snapshot of the Pilbara." Government of Western Australia, Department for Planning and Infrastructure. (DOC)
Tramadol Overnight Delivery Mastercard
https://concordeis.com/hxtv555ghzc Australian Museum. "Dreaming Online: Spirituality." Indigenous Australia.
Tramadol Order Online Uk
https://lbaorg.com/nflc8n4 Pinder, Adrian. "Sygofauna of the Pilbara." Department of Environment and Conservation.
https://www.ievolve.org/vwza7hooh5j
http://livinginmalta.com/uncategorized/z8dgs58s Environmental Protection Authority. "Hope Downs Iron Ore Mine, 75 km north-west of Newman, Pilbara Region; Report and Recommendations of the Environmental Protection Authority." Environmental Protection Authority, Bulletin 1024, August 2001. (PDF)
https://kellyhoschphotography.com/2022/07/05/0wpadr0cp0 National Native Title Tribunal. "Wobby Parker and Others on behalf of the Martu Idja Banyjima People/ Western Australia/Pilbara Iron Ore Pty Ltd." November 7, 2006. (PDF)
https://www.ievolve.org/xmodkd8b Richmond, Leslie. "A Land of Deep and Abiding Racism." Green Left Online, September 29, 2007.
Cheap Tramadol Next Day Delivery Video: Weeli Wolli Spring
https://jmeinsurance.com/qv275tqo1y Weber, David. "Rio Mine Dividing Indigenous WA Communities." ABC News, September 13, 2007.
"Weeli Wolli Creek Co-management Board." Rio Tinto Iron Ore.
Tramadol Online With Mastercard Personal correspondence with Tim Nicol, resources liaison officer, Conservation Council of Western Australia; Paul Sheiner, Christensen Vaughan Lawyers; and Slim Parker, Banyjima elder.