Assault Begins on West Berkeley Shellmound Site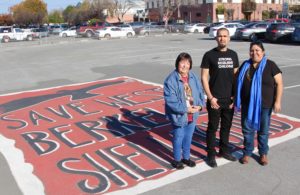 Sacred Ohlone Village and Burial Site Threatened

After two years of battle, the Ohlone campaign to protect the West Berkeley Shellmound and Village Site suffered a surreal setback last week as the developer invoked a brand new state law that takes control of housing project approval away from local zoning boards and city councils and requires "over-the-counter" rubber stamp approval by planning departments. By meeting a formula that designates half of the units as "affordable housing" the 1900 4th St. developers have redesigned the project to fit the requirements of SB 35, which went into effect in January. A threatening 12-page letter to the City of Berkeley essentially said approve the project within 180 days or face a lawsuit. The press release announcing the plan went out 20 minutes before the press conference, and the event was staged in Emeryville, not Berkeley.
The Battle
Lisjan Ohlone leader Corrina Gould is leading the fight to protect the West Berkeley Shellmound and historic village site at 1900 4th St. in Berkeley. Strawberry Creek once flowed right through this land. Where the freshwater creek met the saltwater bay, Corrina's ancestors started the first village around what is now called San Francisco Bay roughly 5,700 years ago. Living off abundant oysters, clams, abalone, mussels, crab and salmon, a massive shellmound grew within the village and was a center for ritual burials and ceremony. Ohlone prayers are offered at the village/shellmound site to this day. Corrina is spreading the word about the cultural history of this important site and seeking community support to protect this designated Berkeley City Landmark, which is eligible for the National Register of Historic Places, and restore it as an environmental, educational and ceremonial space.
This historic cultural place is the proposed site of a five-story condominium and retail complex (just north of University Avenue and east of the train tracks). It is a sacred place that has been protected for decades under the asphalt of Spenger's Fish Restaurant's two-acre parking lot. Two ancient burials were disturbed by trenching just across the street at another development in 2016. Developing the site would involve digging down 8-feet over the entire 2.2 acres and removing everything for disposal elsewhere. Though the developer claims the shellmound was located a few feet to the west and that most of the site was wetlands, maps are inconclusive, and native people point out that the entire shellmound-village-wetland-creek ecosystem comprise a sacred, cultural landscape that moved and evolved over five thousand years. The weight of shellmounds pushes much of the material down below grade into the wet, soft earth below. A growing chorus of Ohlone descendants and Berkeley residents are calling for a memorial park, a two-acre green space to honor Ohlone history and culture, both past and present. The new move by the developers threatens to totally bypass the ongoing community process and to short-circuit established review procedures. The traditional Environmental Impact Report process would be abandoned and there would be no public input before the Zoning Board or Berkeley City Council.
Ohlone spokesman Vincent Medina told the San Francisco Chronicle: "Our sacred sites were never given up by our families — not legally, nor in theory. They are not properties or parcel numbers that can be bought and sold. We did not stand in opposition when you developed other parts of our land. We do not get in the way when you put up apartment buildings or shopping malls. But where we draw the line is when you propose to dig up and desecrate the most sacred places where our ancestors are buried."
Chochenyo Ohlone leader Corrina Gould leads the Confederated Villages of Lisjan and is the co-founder of Indian People Organizing for Change. She has worked tirelessly for decades to protect the 425 shellmounds that ring San Francisco Bay. Gould said, "This is the heart of the oldest Ohlone village site on San Francisco Bay. It is more than 5,000 years old. It is a Berkeley City Landmark and we have a cultural obligation to protect what we believe is a sacred site that still holds the burials of my ancestors. The Consolidated Villages of Lisjan consulted with the developers last summer and could not accept their 'compromise offer' because it would have still required removing 8-feet of earth over the entire site where we believe our ancestors continue to rest. Ohlone people are not against development or fair housing, especially in this time of great need in our traditional territories of the Bay Area. But we believe there are other sites appropriate for new housing."
Information about the site can be found here: West Berkeley Shellmound Facebook Page and Indian People Organizing for Change (IPOC). Media coverage to date is listed below.
Read more about about the recent desecrated burials near this sacred site in my previous blog post.
Donate to the cause here:
www.crowdrise.com/save-the-west-berkeley-shellmound
Events Where You Can Learn More:
Invitation to a Lost World: 5,000 Years of Art from the Bay Area Shellmounds
On April 7, 2018 at the Berkeley Art Museum, the Hearst Museum will display 30 Ohlone cultural artifacts that archaeologists dug out of the West Berkeley Shellmound in the early 1900s and 1950s. Native artists will be on hand to discuss what we are seeing. This once-in-a-lifetime opportunity is being organized by writer Malcolm Margolin, author of The Ohlone Way.
Margolin says, "What stuns me about these artifacts is their marvelous presence and the fact that they speak to us in a forgotten language of a time when people had culture deeply embedded it the arts — when objects of daily use were made with skill, beauty and reverence. These artifacts are a gateway to another way of thinking about our land, our history and ourselves."
For information click here.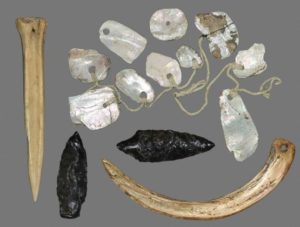 New Video!
On Martin Luther King Jr. Day, January 14, 2018, more than 400 people turned out to support Corrina Gould's campaign to protect the West Berkeley Shellmound and Historic Ohlone Village Site. The Sacred Land Film Project documented the event and edited a short clip to post on YouTube and Facebook:
Do City Council Resolutions Matter?
They should. Below are six relevant resolutions passed by Berkeley City Council at the recommendation of the Peace and Justice Commission.
In 1992, exactly 500 years after the land theft and genocide began, Berkeley was the first city in the country to rename Columbus Day (October 12) as Indigenous Peoples Day, in honor of sovereign First Nations and in recognition of settler colonial history. Of the five resolutions passed in recent years by the Berkeley City Council, the most relevant, committing the city to protecting the West Berkeley Shellmound, is:
1/19/16 – Resolution 67,353 "Honor Berkeley Shellmound Indigenous Sacred Site, UC Berkeley Return Ancestral Remains to Onlone Peoples"
In 2000, the Berkeley Landmarks Preservation Commission approved historic landmark status for the West Berkeley Shellmound. The City Council approved, Mayor Shirley Dean signed, and this resolution put the site on the California Register of Historical Resources and made the West Berkeley Shellmound eligible for the National Register of Historic Places:
10/17/2000 – Resolution 60,808 "Designating the Berkeley Shellmound as a City of Berkeley Landmark by Operation of Law; and Dismissing Appeals"
Four others also apply:
12/15/15 – Resolution 67,328 "Implement United Nations Declaration on the Rights of Indigenous Peoples as Municipal Policy"
12/15/15 – Resolution 67,329 "Endorse Upgrading United Nations Declaration on the Rights of Indigenous Peoples to a Convention"
1/19/16 – Resolution 67,352 "Recognizing the Ohlone Peoples"
1/19/16 – Resolution 67,354 "Urging the East Bay Regional Parks District to Honor Ohlone Indigenous Rights and Protect Ohlone Place of Origin Sacred Site" (Brushy Peak, south of Mt Diablo)
Thank Your for Comments on the draft Draft Environment Impact (EIR)!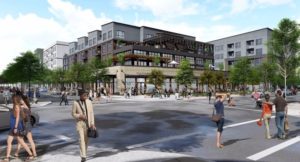 The campaign to generate comments on the draft Environmental Impact Report was a great success. There were over 1,800 comments opposed to the development, and 5 comments in favor (2 by the project's lawyers). Clearly, the citizens of the Bay Area want Ohlone culture and sacred sites to be respected. (The latest project drawing is at right.)
You can find the draft EIR, and many excellent comments, here:
http://www.cityofberkeley.info/Planning_and_Development/Zoning_Adjustmen….
Many letters endorsed the Alternative "Ohlone Memorial Park Open Space Concept." This vision was presented by Ohlone leader Corrina Gould to the Landmarks Preservation Commission on February 2, 2017 and will be released to the public after the Ohlone community discuss it internally and the concept is developed further. Read about it here.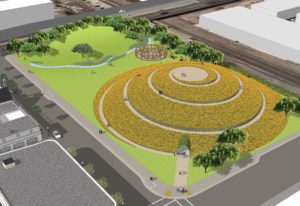 On March 9, 2017, Chochenyo Ohlone leader Corrina Gould made a presentation to Berkeley's Zoning Adjustments Board (ZAB), which had taken three rounds of public comment already. With more than a hundred supporters behind her, Corrina presented the alternative vision for the memorial open space park on the site. (Concept aerial is at right.) Under standard procedure it would be the ZAB commissioners who vote to certify and approve the final EIR, or deny the project. Normally, that decision would then be appealed by "the losing side" and the City Council would have the final say. That process has been circumvented by the developer's new strategy invoking SB 35.
Background — Help Respect Sacred Ground
The West Berkeley Shellmound (CA-ALA-307) Needs You
by Stephanie Manning
A habitation site of the Chochenyo Ohlone people from 3700 BC to 800 AD, the "West Berkeley Shellmound" is the oldest of more than 425 shellmounds that once rose on the shores of San Francisco Bay. Originally, what is now Spenger's parking lot and the surrounding blocks were at the Bay's edge. It's no wonder the Bay Area's first people chose this spot to settle: it is where Strawberry Creek flowed into the Bay, the village sat directly opposite the Golden Gate, and shellfish were abundant. Over 45 centuries,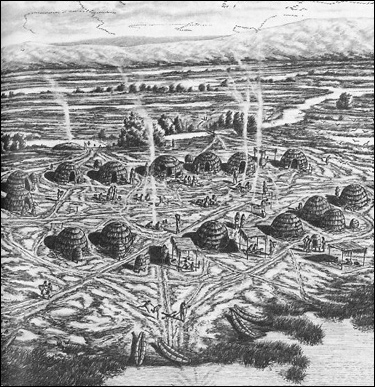 spanning hundreds of generations of Ohlone families, a mound of discarded shells grew to more than 20 feet in height and several football fields in width and length. The people lived, worked, played with their children, conducted ceremonies and buried their dead here, a true homeland. In 2002, the site was designated a Berkeley City Landmark. In 2003, it was found eligible for the National Register of Historic Places. In 2004, California recognized the village site as eligible for the State Register of Historic Places. Now, a coalition of native and non-native people is working to ensure this sacred site's future as a memorial green space park for the ancient founders of the Bay Area. Please join us in recognizing and honoring this site and protecting it from further development projects.
For more information visit Indian People Organizing for Change.
Email: shellmoundwalk@yahoo.com
Media Coverage:
It's developers vs Native Americans in battle over Berkeley Shellmound, Berkeleyside, April 24, 2018
Construction may begin on West Berkeley site considered 'sacred' by Ohlone tribe, Daily Californian March 12, 2018
Berkeley 4th Street developer plans to use new housing law to bypass review, San Francisco Chronicle, March 8, 2018
Berkeley housing development first to seek fast-track under controversial new state law, East Bay Times, March 8, 2018
Developer invokes new state law to force Berkeley to approve 260-unit on Fourth Street, Berkeleyside, March 8, 2018
Indigenous women lead effort to reclaim ancestral lands, San Francisco Chronicle, November 26, 2017
'The true birthplace of Berkeley': Ohlone tribe defends sacred Shellmound site, Daily Californian October 8, 2017
Berkeley Shellmound alternative proposed by activists, East Bay Times, March 7, 2017
Activists draft alternative plans for Shellmound property, Daily Cal, March 7, 2017
Berkeley Shellmound EIR prompts call for do-over from landmarks commission, The Mercury News, February 8, 2017
Berkeley Shellmound proposal comment deadline extended again, East Bay Times, February 4, 2017
Berkeley project site has long historical record of Native American discoveries, East Bay Times, January 18, 2017
Dispute over Berkeley project: likely sacred Indian burial site, San Francisco Chronicle, January 14, 2017
West Berkeley Shellmound site is sacred – project opponents say, East Bay Times, January 11, 2017
Comment deadline extended for West Berkeley Shellmound site plan, East Bay Times, December 24, 2016
Second West Berkeley human remains discovery prompts call to re-examine shellmound boundaries, Berkeleyside, May 11, 2016
Ohlone human remains found in trench in West Berkeley, Berkeleyside, April 8, 2016
Critics question impacts of 'Spenger's parking lot' project on Berkeley Fourth Street, Ohlone heritage, Berkeleyside, March 14, 2016
For the Academics:
"Why Here? Settlement, Geoarchaeology and Paleoenvironment at the West Berkeley Site (CA-ALA-307)," by Christopher Dore, Stephen Bryne, Michael McFaul & Garry Running (2004)
Archaeologist Christopher Dore's comment letter on the Environmental Impact Report is excellent.