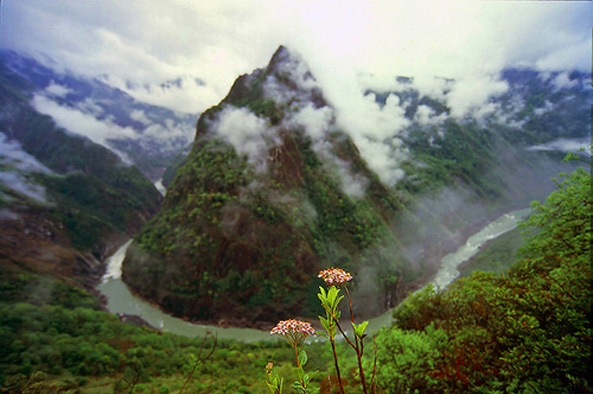 | | |
| --- | --- |
| Status | Threatened |
| Country | Nepal, Tibet, India |
| Report By | Amy Corbin |
| Thanks | Lhakpa Sherpa, senior technical expert at the Mountain Institute, for reviewing prior to publication. |
| Posted | August 11, 2009 |
| Updated | August 11, 2009 |

Throughout the famed Himalayan mountains are large, hidden valleys known as beyul, places of peace and refuge revered by Tibetan Buddhists. These secret lands of legend have drawn Buddhist seekers for centuries, and one called Pemako is thought to have been the inspiration for Shangri-La, the mystical Himalayan utopia described in James Hilton's 1933 novel "Lost Horizon." Because of their remote and isolated location, and the respect with which they have been treated by the communities that reside in or near them, the beyul contain high levels of biodiversity in a setting of tremendous beauty. However, outside influences like globalization, nationalization, cultural assimilation and tourism have begun to erode the power of the traditional beyul concept in many places, while development encroaches on the physical landscape. If modern conservation and management efforts are to be successful, they must find ways to preserve and integrate longstanding traditional beliefs and practices. In his introduction to the Ian Baker book "Heart of the World," the Dalai Lama writes, "From a Buddhist perspective, sacred environments such as Pemako are not places to escape the world, but to enter it more deeply."
The Land and Its People
The beyul are large mountain valleys, sometimes encompassing hundreds of square kilometers, found in the Buddhist areas of the Himalaya in Nepal, Tibet, India and Bhutan. They originate from the beliefs of the Nyingmapa sect of Tibetan Buddhism, which has a rich tradition of respect for natural sites. According to ancient Buddhist texts, the beyul were preserves of Padmasambhava, also known as Guru Rinpoche, who introduced Buddhism to Tibet and founded the Nyingmapa tradition in the eighth century. Information on their locations was kept on scrolls hidden under rocks and inside caves, monasteries and stupa (shrines). Some beyul are now inhabited, others are occasionally visited by spiritual seekers and adventurers, and some are still unknown. The total number of beyul, discovered and not, is often said to be 108.
One of the most legendary beyul is Pemako ("the Secret Land Shaped Like a Lotus"), in southeastern Tibet, east of a dramatic Tsangpo River gorge known as the Great Bend, where the river curves sharply into the Indian state of Arunachal Pradesh. The Tsangpo Gorge is three times deeper than the Grand Canyon, with enormous waterfalls in which the river drops more than 8,000 feet in a 150-mile stretch. These waterfalls, where several explorers have lost their lives, are said to be a gateway to a secret inner part of Beyul Pemako. The Tsangpo River connects Pemako to one of Tibet's most sacred mountains, Mount Kailash, and the landscape of the Tsangpo-Pemako area is said to represent the body of the goddess Dorje Pagmo, with the river her spine and the surrounding peaks her breasts.
In Nepal and Tibet, around Mount Everest, are the Khenbalung, Khumbu, Rolwaling, Rongshar, Kyirong and Nubri sacred valleys. Khumbu was discovered by ancestors of the Sherpa people, who had left Tibet to escape religious persecution in the 15th and 16th centuries. They entered the valley to seek refuge and made a new homeland there. Buddhist monasteries and sacred mountains have brought many spiritual travelers to Khumbu, more accessible than the mysterious Pemako.
Many other beyul are known only to local people and they often transcend political boundaries. The exact geographical locations of beyul are often debated because their locations are also spiritual. A person might follow instructions from the ancient texts but still not be able to see or experience the beyul if not in the proper spiritual state.
Beyul are religious conceptions, but because of the reverence with which they are treated by local residents, hunting, fighting and disturbing the natural landscape are considered inappropriate behaviors and are avoided. As a result, beyul have become significant oases of biodiversity as well. They typically have plentiful water coming from the surrounding mountains, and their terrain is covered with forests, lakes, alpine meadows, and snow and ice fields. These valleys cover large areas and have vast elevation ranges. Their size and topographic variations provide a home for a diverse array of plants and animals; their isolation and inaccessibility generally means low levels of human disturbance.
Within the beyul, particular natural features such as lakes, rocks and patches of forest are often regarded as especially sacred because they are home to supernatural beings. Some gathering of plant resources, such as medicinal plants, firewood and timber, is allowed, but collectors make sure they have not harvested more than is needed. The animals in beyul are protected by the Buddhist taboo against killing. The residents of the Kharta and Rongshar areas in Tibet, for example, challenged British explorers who wanted to hunt when they arrived in 1921. Endangered species that live in beyul include the snow leopard, musk deer, red panda and Himalayan black bear.
The sacredness of the beyul also means that human conflicts are spiritually discouraged. In Beyul Dremoshung in the Indian state of Sikkim, two groups, the Lepchas and Bhutias, hold an annual festival that commemorates the signing of a peace treaty. The festival celebrates the deity of the beyul's Mount Kangchendjunga, who is supposed to have witnessed the treaty signing.
Current Challenges and Preservation Efforts
Today, most beyul in the Himalaya are designated as some form of park or reserve by their respective governments. In the process, the centuries of protection the beyul concept has provided are being forgotten, and regulation and policing are taking precedence over communities' faith-based conservation. Many beyul are no longer so isolated because of modern modes of transportation and communication. Education in outside languages often erodes local cultural values and traditional knowledge. When children adopt cultures that are alien to their own land, traditional concepts such as the beyul begin to lose their grip on people's minds.
In the age of global economic systems, voluntary faith-based approaches may also not be adequate to ensure continued environmental protection, as development projects are authorized from outside the communities. Roads now run through Ronghsar and Kyirong and there are airfields near Khumbu and Khenbalung. Burning of forests, livestock overgrazing and soil erosion are becoming problems as community respect for the beyul declines. And since the higher-elevation and more isolated areas tend to be economically poorer, the money to be made from tourism and development is a powerful force. Adventure tourism like trekking is often unregulated, and increasing numbers of visitors are taking their toll on fragile areas. Recent migrants to the area often serve as commercial and trekking porters, and they do not share the religious and cultural traditions of long-term inhabitants.
Pemako is currently threatened by China's plans to build a hydroelectric dam, twice as big as the controversial Three Gorges Dam, which would harness the power of the Tsangpo waterfalls to pump water to northeast China. The project would displace the traditional Tibetan villages above the gorge and impact millions of people downriver in India, who will be deprived of river water and the nutrients its flood levels bring into soil. The artificial lake created by the dam would also submerge untouched forests and wildlife.
Sagarmatha National Park, which encompasses Beyul Khumbu, near Mount Everest, was established in 1976 and declared a UNESCO World Heritage site three years later. It is the second most visited national park in Nepal's Himalayan region; tourism increased from 3,600 tourists in 1979 to 21,570 in 2001. The Sherpa continue to live in the park and grow food through traditional methods. However, there are pressing concerns about the increased harvesting of fragile and slow-growing high-altitude vegetation such as shrub juniper and cushion plants, which the growing population uses for fuel. Tourism has brought them some financial benefits, but the growing numbers of people disturb fragile ecological zones, and tourism income is not equally distributed throughout the region.
For protected areas to be successful in the long term, park managers and government officials need to learn more about the spiritual underpinnings of the beyul concept in order to gain support from the local communities who are the real guardians of the hidden lands. Regulations should complement traditional use rules instead of override them. A full survey of beyul throughout the Himalayas needs to be conducted, alongside interviews with community spiritual leaders to document the principles by which they govern their beyul. Local schools should incorporate beyul traditions into their curriculum so adults can pass on indigenous knowledge and practices. Outside visitors and migrant workers should also be educated in the local culture and conservation ethics; their respect and interest will further encourage community members to preserve their heritage.
Some community groups and NGOs are currently working to strengthen local attachment to the beyul and educate communities about the value of ecotourism, which can provide income while also protecting the sacred valleys. The Mountain Institute's Himalaya Program works with local communities in the eastern Himalayan valleys of Nepal and Tibet to preserve mountain cultures, improve mountain livelihoods and conserve ecosystems. Its Sacred Sites Trail Project has constructed a trail in Sagarmatha National Park to keep tourists away from fragile areas and direct them to lesser-known sacred sites and villages in the Khumbu region, thus spreading the economic benefits to isolated communities and lessening the impact on better-known places. The nonprofit Vision Builders runs the Lhundrüp Topgyé Ling School in the Indian state of Arunachal Pradesh, which serves local students and Tibetan refugees by teaching literacy, Buddhist principles and cultural traditions.
Protecting ecosystems across political boundaries is also vital for long-term conservation. Toward that end, the Mountain Institute has supported the governments of Nepal, India and the Tibet Autonomous Region in creating a network of transboundary protected areas including Sagarmatha National Park, Makalu-Barun National Park and Tibet's Qomolangma Nature Preserve. These adjacent parks jointly protect nearly 40,000 square kilometers around Mount Everest in the heart of the Himalaya, including six beyul.
What You Can Do
Read more about the work of the Mountain Institute and consider making a donation. You can also watch their film "Beyul: The Sacred Hidden Valleys," which documents Beyul Khumbu, the Sherpa's traditional reverence for it, and the vulnerability of this belief in modern times.
Visit the Vision Builders website to learn more about Lhundrüp Topgyé Ling school and how you can donate to their work.
If you visit Himalayan beyul regions, be respectful of Buddhist tradition regarding sacred places; read the cultural tips in the Mountain Institute's sacred sites trail brochure (PDF) to learn more. For more general guidelines, read Sacred Sites International Foundation's Ethics for Visiting Sacred Sites.
Sources
Baker, Ian. The Heart of the World: A Journey to the Last Secret Place. New York, N.Y: The Penguin Press, 2004.
Heller, Peter. "Liquid Thunder." Outside, July 2002.
Jain, Alka, et al. "Folklores of Sacred Khecheopalri Lake in the Sikkim Himalaya of India: A Plea for Conservation." Asian Folklore Studies 63 (2004): 291-302.
Nepal Department of National Parks and Wildlife Conservation. Sagarmatha National Park.
Sherpa, Ang Rita. Sacred Sites of Khumbu Region. The Mountain Institute. (PDF)
Sherpa, Lhakpa N. Through a Sherpa Window: Illustrated Guide to Sherpa Culture. Kathmandu: Vajra Publications, 2008.
Sherpa, Lhakpa N. "Sacred Hidden Valleys and Ecosystem Conservation in the Himalayas." In Conserving Cultural and Biological Diversity: The Role of Sacred Natural Sites and Cultural Landscapes. Edited by Cathy Lee and Thomas Schaaf, 68-72. Paris: United Nations Educational, Scientific and Cultural Organization (UNESCO), 2006. (PDF)
Sherpa, Lhakpa N. "Sacred Beyuls and Biological Diversity Conservation in the Himalayas." In The Importance of Sacred Natural Sites for Biodiversity Conservation (Proceedings of the International Workshop Proceedings of the International Workshop held in Kunming and Xishuangbanna Biosphere Reserve, People's Republic of China, February 17-20, 2003). Edited by Cathy Lee and Thomas Schaaf, 101-105. Paris: United Nations Educational, Scientific and Cultural Organization (UNESCO), 2003. (PDF)
Sherpa, Lhakpa N. "The Sacred Mountains of the Nepal Himalaya." In UNESCO Thematic Experts Meeting on Asia-Pacific Sacred Mountains, Final Report (Meeting held in Wakayama City, Japan, September 5-10, 2001), 221-230. Paris: UNESCO, 2001. (PDF)
Stevens, Stanley F. Claiming the High Ground: Sherpas, Subsistence, and Environmental Change in the Highest Himalaya. Berkeley: University of California Press, 1993.
Sud, Hari. "China's Future Water War With India." UPI Asia, May 13, 2008.
Snow Lion Publications. "The Pemako Project." The Snow Lion Newsletter, July 2003.
Tsering, Tashi. Hydro Logic: Water for Human Development: An Analysis of China's Water Management and Politics. Tibet Justice Center: 2002. (PDF)
Tsering, Tashi. "Inviting Apocalypse: India to Support China's Plans to Harness the Brahmaputra River." TRIN-GYI-PHO-NYA: Tibet's Environment and Development Digest, December 7, 2005.
United Nations Educational, Scientific and Cultural Organization. "Sagarmatha National Park." UNESCO World Heritage Center.