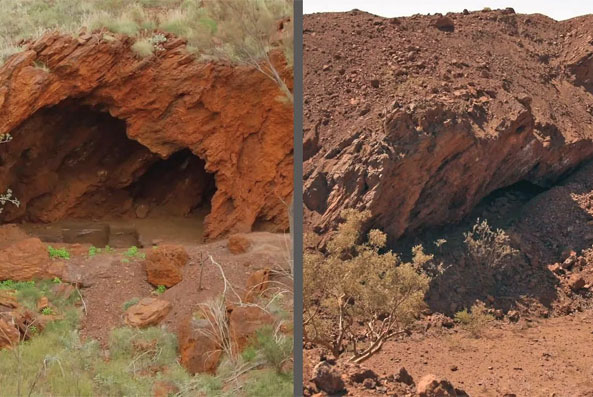 | | |
| --- | --- |
| Status | Endangered |
| Country | Australia |
| Report By | Callie Shanafelt Wong |
| Thanks | PKKP Aboriginal Corporation |
| Posted | September 21, 2022 |

In May 2020, while clearing the way for a mine expansion, the transnational mining company Rio Tinto set off explosives that destroyed a site sacred to the Puutu Kunti Kurrama and Pinikura people in Western Australia. The site included the Juukan Gorge Rock Dwellings, which have evidence of human habitation dating back 46,000 years. The mining company placed their explosives meters from the rock shelters with full permission of the Australian government—and after misleading Traditional Owners. Following a huge public outcry, the Australian Senate referred the incident to the Joint Standing Committee on Northern Australia for an inquiry, which led to Rio Tinto's CEO Jean-Sébastien Jacques and two of his deputies being fired.
Puutu Kunti Kurrama Traditional Owner Burchell Hayes wrote to the Joint Standing Committee on Northern Australia: "Myself, my family, our elders and our ancestors are in mourning at the desecration of our sacred site. This is a part of our land that we are deeply connected to and which was an important feature of our future. Healing is slow and painful and will not come easily. Our trust in the system and our partners has been broken completely. I hope that some good can come out of our pain as we all work to build a new future for ourselves and future generations."
The Land and Its People
The Puutu Kunti Kurrama and Pinikura people (PKKP) are two distinct Aboriginal groups whose territory lies in the Pilbara region of Western Australia. Together they established the PKKP Aboriginal Corporation to represent their land rights over approximately 10,800 square kilometers between the towns of Onslow and Tom Price. "While these two groups are distinct and unique, they observe common laws and customs that facilitate the protection and sharing of resources," according to the PKKP Aboriginal Corporation website. The Puutu Kunti Kurrama speak the Kurrama language while the Pinikura people speak Pinikura, sometimes called Binigura.
The Juukan Gorge includes Purlykuti Creek and covers an area 400 meters long by 70 meters wide. Purlykuti Creek connects places of high cultural significance, both ethnographic and archaeological, including the Vivash Gorge, which features extensive engravings, blade quarries and ochre deposits. Purlykuti is the gateway to important ceremonial places in the southwest of PKKP country. "The significance of the local environment cannot be overstated for the many language groups of the Pilbara, whose socio-economy has evolved with the many developments in the area," the PKKP Aboriginal Corporation wrote to the Australian Parliament after Rio Tinto blew up their historic rock shelters.
Juukan Gorge is home to a number of secluded cultural sites. "Of particular concern are two rock shelters which "held a 'museum of information', harbouring thousands of artefacts, including grinding stones, rock seats, a blade quarry and flaked stone materials, and human hair from a hair belt that has been genetically identified to match PKK descendants. Many of these sacred objects are now stored either in a shipping container or are on display at the administration building at the Brockman 4 mine site, or at the Rio Tinto Heritage building in Dampier, and PKKP access to them is restricted," reported the PKKP Aboriginal Corporation.
The rock shelters are part of a sensitive and significant cultural landscape related to a particular ceremony and men's rites. Medicine such as lemon grass and grinding seeds are collected in the gorge. The area is also home to a sacred rock pool in the shape of a snake's head entering the ground. "This rock pool has been identified as a significant spiritual place which was known to be still visited by the spirits of the PKKP. This is why the rock shelters had been so important to the old people, and hence accounts for the great length of time the rock shelters in the valley have been used, and protected, by the old people," continues the PKKP Aboriginal Corporation. "Both the tangible and intangible cultural importance of the Juukan complex, and the rock shelters in particular, cannot be overstated."
As semi-nomadic peoples, both the Puutu Kunti Kurrama and Pinikura traditionally found shelter in the two Juukan Gorge caves over the last 46,000 years. The site is one of precious few in Australia with archaeological evidence demonstrating a relationship with humans for such a long period of time. Kurrama elder Burchell Hayes, Chair of the PKKP Aboriginal Corporation, told The Guardian Australia, "We want to show the next generation. Now, if this site has been destroyed, then we can tell them stories but we can't show them photographs or take them out there to stand at the rock shelter and say: This is where your ancestors lived, starting 46,000 years ago."
Current Challenges and Preservation Efforts
Western Australia's Aboriginal Heritage Act 1972 was enacted to protect cultural resources like the Juukan Gorge, but this indefensible incident exposed the weakness of the legislation. In practice, the legislation has prioritized development and profit, often forcing Aboriginal people into agreements and gag orders. The Act does make it a criminal offense to destroy a cultural resource, but under Section 18, settler landowners can apply for permission to commit the acts the legislation deems illegal. There is a token opportunity for Aboriginal groups to provide their input, but ultimately it is a government minister who decides whether or not to grant an exemption to the law.
In this case, the Minister for Aboriginal Affairs, Peter Collier, granted Rio Tinto permission in 2013 to set explosive charges in the area in spite of concerns raised by the Traditional Owners. In October 2019, PKKP representatives visited the site with Rio Tinto's Manager of Mine Operations. According to the Parliament Committee report, "A Way Forward," during the site visit, PKKP Culture and Heritage Manager, Dr. Heather Builth, "pointed out the gorge and said, 'Can you please tell me how the situation is with those two rock shelters, Juukan?' and I proceeded to tell him how significant they were in not only the Pilbara but Australia and globally. I wanted to know what the plans were for any prospective mining, and he reassured me. He said, 'No, they are not in any danger. They are not on our mine plan. In fact, we are undertaking vibrational studies on them and we wouldn't be doing that if we wanted to blow them up.'"
During the Joint Standing Committee inquiry, CEO Jean-Sébastien Jacques admitted that Rio Tinto had withheld three alternate mine plans from the PKKP.
In 2014 an archaeological dig was conducted to salvage what was on the site. The flat floor of the cave indicated that an exceptional depth of soil had built up. The dig revealed that the site was more than twice as old as previously thought. More than 7,000 artifacts were unearthed. The excavation also found evidence of human habitation even during the Ice Age, between 23,000 and 19,000 years ago. The most significant find was a 4,000-year-old braid of human hair from several different people. DNA testing revealed direct ancestors among the Puutu Kunti Kurrama and Pinikura.
"It's one of the most sacred sites in the Pilbara region … we wanted to have that area protected," PKKP director Burchell Hayes told The Guardian Australia. "It is precious to have something like that plaited hair found on our country, and then to have further testing link it back to the Kurrama people. It's something to be proud of, but it's also sad. Its resting place for 4,000 years is no longer there."
But once Section 18 permission had been granted, there was no way to reconsider the approval to destroy the site, even with this new information. Archaeologist Dr. Michael Slack, who led the 2014 dig, said it was a once-in-a-lifetime discovery. "How significant does something have to be, to be valued by wider society?" he asked.
According to the PKKP Aboriginal Corporation, the entire eastern part of the Juukan Gorge has been destroyed, while parts of the western region are intact. The rock shelters were in the middle of the gorge. The cave known as Juukan 2, the one where most of the artifacts were found, was closest to the blast and seems to have been completely destroyed. Its entrance is covered by blast material. The cave known as Juukan 1 is now covered in a thick layer of blasted rock with material blocking several parts of the entrance.
The PKKP Aboriginal Corporation wrote: "The effect of the destruction of important spiritual places on an Aboriginal person was described by the High Court of Australia in Northern Territory v Griffiths (2019) HCA 7 at [206] in the following terms:
'…the people, the ancestral spirits, the land and everything on it are 'organic parts of one indissoluble whole'; the effects [of the destruction of sites] on the sense of connection are not to be understood as referable to individual blocks of land but understood by the 'pervasiveness of Dreaming'; the effects are upon an Aboriginal person's feelings, in the sense of his or her engagement with the Dreamings; an act can have an adverse effect by physically damaging a sacred site, but it can also affect a person's perception of an engagement with the Dreamings because the Dreamings are not site specific but run through a larger area of the land; and as a person's connection with country carries with it an obligation to care for it, there is a resulting sense of failed responsibility when it is damaged or affected in a way which cuts through the Dreamings.'"
Even though the world was facing the start of the Covid-19 pandemic, the destruction of the Juukan Gorge Rock Dwelling site sparked international outrage. People took to the streets in Perth to protest. Rio Tinto CEO Jean-Sébastien Jacques, Head of Corporate Relations Simone Niven, and Head of Iron Ore Chris Salisbury, were all fired once their mishandling of the incident came to light. Rio Tinto is now building a co-management relationship with the PKKP Aboriginal Corporation, but the company has yet to pay promised restitution.
What you can do
While there is no way to turn back the clock and restore the Juukan Gorge caves, a movement has developed to strengthen the laws intended to protect cultural resources and sacred sites in Australia. The Parliament's Joint Standing Committee on Northern Australia released a thorough investigation of the incident in October 2021. You can advocate for the committee's recommendations to be enacted.
One major finding was that this issue cannot be left up to Australia's state governments. In 2021 Western Australia enacted the Aboriginal Cultural Heritage Act of 2021 despite opposition from Traditional Owners, the United Nations, legal experts, advocacy groups and Land Councils. This bill has a similar clause as Section 18. It asks Traditional Owners to negotiate cultural management plans but does not require their consent.
The Joint Standing Committee report calls for consistent, overarching, commonwealth (federal) legislation to effectively protect Aboriginal and Torres Strait Islanders' cultural heritage. "The legislation should be in line with the UN Declaration on the Rights of Indigenous People (UNDRIP), which defines the right to 'cultural heritage', 'traditional knowledge' and 'traditional cultural expressions' per Article 31 as follows: Indigenous peoples have the right to maintain, control, protect and develop their cultural heritage, traditional knowledge and traditional cultural expressions, as well as the manifestations of their sciences, technologies and cultures, including human and genetic resources, seeds, medicines, knowledge of the properties of fauna and flora, oral traditions, literatures, designs, sports and traditional games and visual and performing arts. They also have the right to maintain, control, protect and develop their intellectual property over such cultural heritage, traditional knowledge, and traditional cultural expressions."
Check out our sacred site report on Weeli Wolli Springs, which is also under threat from Rio Tinto in the Pilbara region.
SOURCES: 
Articles:
Knowles, Rachael. "'Two incredibly painful years': Juukan Gorge anniversary renews calls for heritage protection." NITV News,  May 25, 2022.
Jenkins, Keira. "'Long road ahead': Juukan Gorge report welcomed by PKKP Traditional Owners." NITV News,  December 10, 2020.
Jenkins, Keira."Rio Tinto CEO and senior executives resign following Juukan Gorge destruction." NITV News,  September 11, 2020.
Michelmore, Karen. "UN committee raises concerns over new heritage laws." NITV News,  December 11, 2021.
NITV Staff Writer. "Agreement with Traditional Owners to guide Rio's Pilbara mining."NITV News, AAP,  May 20, 2022.
Reuters Staff. "Timeline: Rio Tinto's sacred Indigenous caves blast scandal." Reuters, December 17, 2020.
Reuters Staff. "Mining giant Rio Tinto yet to pay compensation for Aboriginal sacred site destruction." Reuters, August 27, 2021.
Wahlquist, Calla. "Rio Tinto blasts 46,000-year-old Aboriginal site to expand iron ore mine." Guardian Australia,  May 26, 2020.
Allam, Lorena and Calla Wahlquist. "A year on from the Juukan Gorge destruction, Aboriginal sacred sites remain unprotected." Guardian Australia,  May 23, 2021.
Wahlquist, Calla. "Juukan Gorge traditional owners sign agreement with Rio Tinto to co-manage WA mining land." Guardian Australia,  May 19, 2022.
Allam, Lorena. "'Failures at every level': changes needed to stop destruction of Aboriginal heritage after Juukan Gorge." Guardian Australia,  October 18, 2021.
Butler, Ben and Lorena Allam and Calla Wahlquist. "Rio Tinto CEO and senior executives resign from company after Juukan Gorge debacle." Guardian Australia,  September 11, 2020.
Michelmore, Karen. "Rio Tinto didn't tell traditional owners there were options to save ancient Juukan Gorge rock shelters." ABC News, August 6, 2020.
AAP. "Hundreds protest at Rio Tinto's Perth office after mining giant blew up indigenous site." 9 News, June 9, 2020.
"Traditional Owners distraught after destruction of 46,000-year-old rock shelters." National Indigenous Times, May 28, 2020.
"What is Section 18 of the Aboriginal Heritage Act WA and why should you know about it?" Winyama Digital Solutions, July 24, 2020.
VIDEOS:
"The full story of the Juukan Gorge sacred site disaster and aftermath," YouTube video, 6:43 posted by "ABC Australia," January 15, 2022,
Rijavec Frank, dir. Exhile and the Kingdom. Pilbara, WA, Australia: 1992. Part 1 Part 2
Joint Committee of Northern Australia Reports:
Puutu Kunti Kurrama People And Pinikura People.  Submission To The Joint Standing Committee On Northern Australia Inquiry Into The Destruction Of 46,000-Year-Old Caves At The Juukan Gorge In The Pilbara Region Of Western Australia, Submission 129.
Parliament Of The Commonwealth Of Australia. Joint Standing Committee on Northern Australia. A Way Forward: Final report into the destruction of Indigenous heritage sites at Juukan Gorge, by Joint Standing Committee on Northern Australia,  Canberra: October 2021.
Wangka Maya Pilbara Aboriginal Language Centre. Kurrama.
Rio Tinto. Juukan Gorge.
Continue Exploring Sacred Sites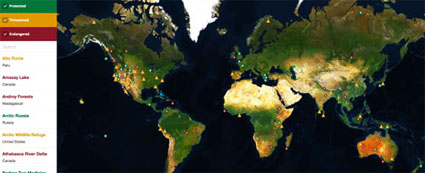 Explore a world of sacred lands and discover more than 100 site reports using our interactive map.