Shasta Dam Threatens Winnemem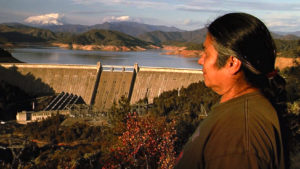 California Senator Dianne Feinstein and the Westlands Water District are teaming up to deliver yet another wave of water wealth to corporate farmers and campaign contributors in central and southern California. Feinstein recently introduced "emergency drought" legislation that could authorize and fund the raising of Shasta Dam. Sadly, Senator Barbara Boxer co-sponsored the bill—surprising many who admire Boxer's commitment to the environment and human rights.
We have been expecting this move for years and, finally, under cover of drought, the end game is upon us. Making Shasta Dam higher is an idea that just won't die—no matter how misguided, economically, environmentally and culturally.
When Shasta Dam was completed in 1945 in the far north of California, it drowned most of the Winnemem Wintu Tribe's sacred and ceremonial sites. Ancient villages along the McCloud River were flooded as well. Salmon could no longer reach the river to spawn. The tribe received no reparations or compensation. Salvage archaeology unearthed 183 Winnemem burials for reburial in a new cemetery near the dam, which was not named after the tribe, as promised, and they now need government permission to use it. The Winnemem have no trust land, and did not receive federal recognition when the Bureau of Indian Affairs formalized a list of tribes in the 1980s.
Seventy years after the first flood, the U.S. government wants to increase the height of Shasta Dam by 18.5 feet, which will drown many important, remaining Winnemem sacred sites. The cost of raising the height of the dam is $1.3 billion, precious tax dollars that could be spent to implement sensible, cheaper, surer water solutions, such as improving agricultural efficiency, developing underground storage and expanding water treatment and reuse.
Recently, two great detailed articles were published, Will Parrish's "Damning California's Future" in the East Bay Express (October 21, 2015), Michael Hiltzik's Los Angeles Times piece: "How a rich water district beat the federal government in a secret deal" (September 18, 2015). Check 'em out.
During Native American Heritage Month in November, with our films airing on PBS stations in the Bay Area, we are launching a campaign against the Shasta Dam raise. It will include a CREDO petition, an op ed by Winnemem Chief Caleen Sisk, an open letter to Senator Barbara Boxer from leading water experts, and new memes on social media. Please get the word out and help the Winnemem stop the raising of Shasta Dam. Let's kill this bad idea once and for all.
TAKE ACTION: Please write Senator Boxer and ask her to amend the California Emergency Drought Relief Act to exclude raising Shasta Dam by 18.5 feet, and to respect the Winnemem rights to their homeland! Sample letter here.