Toolkit to Protect Sacred Sites from Mining: "No Go!"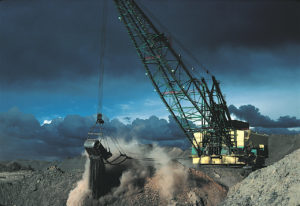 As we begin the IUCN World Conservation Congress in Honolulu, which opened on September 1, we are creating a Toolkit for indigenous communities to help them protect sacred natural sites and territories. This will include a "No Go Declaration" banning extractive industries from traditional territory—for use by communities that are building a global network of sacred site guardians to resist the aggressive intrusions of mining companies.
We have brought 20 indigenous sacred site guardians to Honolulu to meet each other, speak at workshops and film screenings, and discuss threats and successful protection strategies with colleagues from around the world. We began our journey with a pre-Congress meeting on the sacred island of Kaho`olawe where Native Hawaiians hosted political and spiritual practitioners from Mongolia, Kyrgyzstan, the Altai of Russia, Kenya, Borneo, Papua New Guinea and the mainland United States.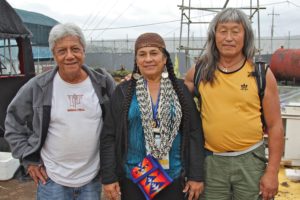 From World Heritage Sites to sacred natural sites, from national parks to primary forests, a growing chorus of indigenous leaders and conservationists are asserting that a firm line must be drawn protecting the Earth's biological and cultural diversity—and her interwoven sacred places—from the irreversible damage that can be caused by extractive industries. While the current focus at the World Conservation Congress will be the rapid, sometimes ruthless expansion of large-scale mining, "extractive industries" also include logging, dams, land grabs by corporate agriculture, and even New Age exploitation of indigenous spirituality. But "No Go for Mining" is a big enough battle for now, and it will be our focus in Honolulu.
The concept of "No Go" for mining, and oil and gas extraction is internationally recognized for all World Heritage Sites and as such it has (or should have) the strong legal backing of a treaty, because the World Heritage Convention has been adopted by 191 nations. Despite having the legal force of a treaty, World Heritage Sites are not safe, and neither are national parks—anywhere on the planet—if uranium or gold or oil lie underground. This is true from America's Grand Canyon to Tanzania's Selous Game Reserve. Hence the need to strengthen No Go policy for World Heritage Sites and, beyond that, linking Sacred Natural Sites and other important biodiverse areas seems only natural. The world's most precious places should be safe from mining!
We are guided in this effort by the guardians who have met to discuss these issues previously. Their words and calls to action form the foundation of this new Toolkit. At the last World Conservation Congress, for example, sacred site guardians issued "A STATEMENT OF CUSTODIANS OF SACRED NATURAL SITES AND TERRITORIES—An outcome of a dialogue between Custodians of Sacred Natural Sites and Territories, October 2008 at the IUCN World Conservation Congress, held in Barcelona, Spain."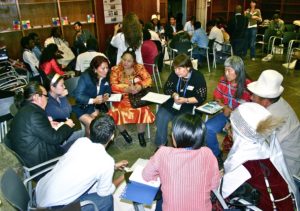 IUCN is all about "protected areas." There are many ongoing arguments about the seven different IUCN categories of protected area and the various levels of protection. Until the indigenous rights movement flowered in the 1990s, protected areas were creations of governments imposed on the landscape as if indigenous people knew nothing about biodiversity, water, mountains and forests. Many indigenous communities were forcibly relocated out of new "protected areas" created within their ancestral homelands. As I discovered while writing the IUCN guidelines on "managing" the spiritual places of indigenous people that have been appropriated by formal protected areas: sacred natural sites are the oldest form of protected area on the planet. At places of power all over the world, there are ancient customary laws that call for respect, define appropriate behavior, and spell out clear punishments for transgression. Moreover, protection of biodiversity is central to sacred sites and is encoded in traditional ecological knowledge that blends material facts, oral tradition and spiritual truths.
To its credit, IUCN is catching up and recognizing the historic fact that sacred natural sites are the original protected areas. Whereas the protected area movement's view of history for decades asserted that it all started with the creation of Yellowstone National Park in 1872, the revised history now extends back much further and recognizes that places like Uluru in Australia, Kailas in Tibet and Mt. Shasta in California have been protected areas with strict rules and protocols for milennia. And so sacred places endure in a secular world that is still barely recognizing the racism inherent in colonial science and conservation.
One element of our new Toolkit, full of background information and case studies, is the IUCN / UNESCO Best Practice Guidelines 16: Sacred Natural Sites: Guidelines for Protected Area Managers that I co-edited with Rob Wild, and released at the 2008 World Conservation Congress in Barcelona.
Having gained recognition—and some level of visibility and respect—the challenging task now is public policy change: laws with teeth that have public support and are enforced. Toward that end we are collaborating on Motion 026 at the Congress and have joined with allies from Amazon Watch, Borneo Project, Altai Project, Wild Foundation, Gaia Foundation and The Christensen Fund, to encourage passage of Motion 26. Please help us by using the hashtags #SacredNoGo, #IUCNcongress and #VoteForIUCNMotion26. Thank you!
Sacred Site Guardians and allies at the IUCN World Conservation Congress in Jeju, South Korea in 2012An important 2015 contribution to the Toolkit comes from the Gaia Foundation and African Biodiversity Network—A Call for Legal Recognition of Sacred Natural Sites and Territories, and their Customary Governance Systems (November 2015) has furthered the cause of sacred site protection throughout Africa. This report comprises another tool in our new Toolkit (initial elements below), detailed in a new blog post here.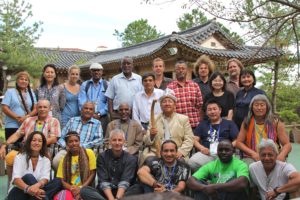 One of our key partners at the World Conservation Congress will be Amazon Watch and the Ecuadorian activist Patricia Gualinga. Her Sarayaku community "Kawsak Sacha" proposal calls for legal protection of the "Living Forest" with recognition as a Sacred Territory, the Biological and Cultural Patrimony of the Kichwa People in Ecuador, declaring it a "No Go Area" for oil, mineral and lumber extraction. "Kawsak Sacha" also means "sacred territory"—where spirits are a community, physical and spiritual, from the greatest waterfall to the smallest medicinal plant, and where oil drilling or mining disrupts, destroys, depletes the life force: no longer a living forest, no longer a sacred territory, and the people fail their #1 responsibility as humans. In Hawai'i we will work with Patricia and other sacred site guardians to craft language that links sacred sites around the world as No Go Areas.
Our powerful delegation includes: Winnemem Wintu Chief Caleen Sisk (California), Danil Mamyev (nature park founder, Altai Republic, Russia), Vyacheslav Cheltuev (snow leopard shaman from Altai), Oyunbaatar Tseren (an elder shaman from Mongolia), Kamil Mamadaliev (an epic singer from Kyrgyzstan), Ware Melchior (elder and activist from Papua New Guinea), Barak Gamui (director, Karawari Caves Arts Project, Papua New Guinea), Molu Kulu Galgallo (Gabbra, Kenya), Peter Kallang and Komeok Tungang (Borneo), Patricia Gualinga (international spokesperson for the Sarayaku, Ecuador) along with her niece Nina Gualinga, Aura Tegria (attorney, Uwa, Colombia), Oussoi Lio Appolinaire (Benin), Sostine Namanya (Uganda), Simon Mitambo (Kenya) and our hosts from the Protect Kaho`olawe `Ohana, Emmett Aluli, Davianna McGregor, Craig Neff and Luana Busby-Neff (Hawai'i).
Follow our daily reports from Hawaii on Facebook—https://www.facebook.com/SacredLand/—Twitter: @SacredLandFilm—and Instagram: @SacredLandFilmProject.
TOOLKIT ELEMENTS (in process):
In the long history of struggle to create legal protections for sacred sites, there have been several success stories to build on in other locations.
In Australia, there is the "NORTHERN TERRITORY ABORIGINAL SACRED SITES ACT."  (1989)
In the African nation of Benin, there is an "INTERMINISTERIAL ORDER — Setting the conditions for the sustainable management of sacred forests."
In the United States, there is Executive Order No. 13007: Indian Sacred Sites, an inadequate but well-intentioned presidential order issued by President Bill Clinton in 1996.
Other important resources include:
African Commission on Human and Peoples' Rights — Resolution on the Protection of Sacred Natural Sites and Territories (November 2015)
Protect Kaho`olawe `Ohana, Cultural Use Plan for the island of Kaho`olawe —  KÜKULU KE EA A KANALOA — The Culture Plan for Kanaloa Kaho`olawe
Kawsak Sacha: The Living Forest — An Indigenous Proposal for Confronting Climate Change (Presented by the Amazonian Kichwa People of Sarayaku COP 21, Paris, December 2015)
The Convention on Biological Diversity published Akwe Kon voluntary guidelines for the conduct of cultural, environmental and social impact assessments regarding developments proposed to take place on, or which are likely to impact on, sacred sites and on lands and waters traditionally occupied or used by indigenous and the local communities.
Blog Post Categories: Resource Extraction, Threatened Sacred Sites